Earners' money should go straight to their family.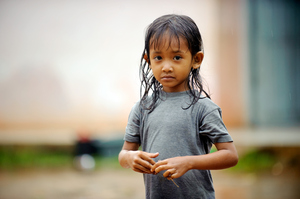 What should we do about child poverty? The current Children's Commissioner, Dr Russell Wills, has made the problem a priority for his five-year term and this year he assembled an expert advisory group to come up with solutions. It issued some proposals near the end of August and wants comment on them by this Friday.
Any discussion of poverty in this country should be prefaced with a reminder that social commentators who use the term are not talking about the abject squalor and misery most people imagine "poverty" to be. They are talking about "relative poverty", defined as a proportion of the average household's income in the country concerned.
Under their definition it does not matter how high a country's median income rises, households living on less than 60 per cent of the median disposable income (after housing costs) will be below the "poverty line". It will be impossible to alleviate poverty thus defined unless all incomes are equalised.
The more precise term for poverty in a country such is New Zealand is inequality.
Inequality means the household cannot afford many of the things that most people in the same country take for granted. In the Herald yesterday the expert advisory group co-chair, Dr Jonathan Boston, used an OECD index of nine items that the average household in rich countries can afford: a warm house, a phone, colour television, washing machine, car, a meat meal every second day, an annual week's holiday away from home, the ability to pay bills on time and keep at least $1500 in the bank for unexpected expenses.
If a household cannot afford at least three of those items it is classified as deprived. Dr Boston said 18 per cent of New Zealand children were in households that poor in 2008, compared with 6-7 per cent in countries such as Sweden and the Netherlands.
It is fair to assume that many of that 18 per cent of children are also deprived of books, educational encouragement and other essentials for equal opportunities in life.
The solutions the group has proposed are mostly familiar: pay a child benefit to all parents, rich or poor ("dopey", as the Prime Minister said), re-allocate the present child-support payments to favour children under 6, extend income supplements for the low paid to unemployed parents, offer free meals in schools and provide after-school care.
But one suggestion is less known. The group suggests that when a couple with children separate and the parent left with the children has to go on the benefit, child-support payments made by the non-custodial parent ought to be passed to the household. People who have not been in that situation will be surprised that child support is not passed on; instead it is kept by the state to offset some of the cost of the benefit.
The group suggests, probably rightly, that if the payment was passed on, non-custodial parents would be more likely to meet their responsibilities. It also suggests that this should not mean a reduction in the benefit, making those households better off than children whose non-custodial parent is not making payments. That might not make society more equal but it would put some pressure on all earners to help their abandoned family if they possibly can.
Parental separation has been a prime cause of growing inequality in modern times. Living standards are now set by two-income households and divorce can deprive children of not just one income-earner but both if the custodial parent has to care for them full time. Family breakdown is a key factor in child poverty and even a part-solution there would be a start.