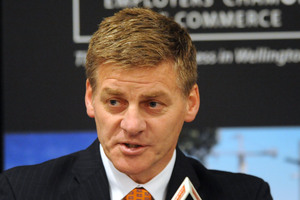 The Government is to amend the Public Finance Act as part of next month's Budget, bringing in a cap on government spending in line with National's confidence and supply agreement with Act.
In a speech in Wellington yesterday, Finance Minister Bill English reiterated his Government's commitment to returning their books to surplus by 2014-15, in spite of a $1 billion worsening in the Crown's finances in preliminary Budget estimates.
English said ministers were making decisions to achieve the return to surplus, including what would be "very close" to a zero Budget next month and reprioritisation of existing spending. That was on top of $1 billion in public sector savings over the next three years announced in last year's Budget.
English also said next month's Budget would include a proposal to limit spending increases to population growth and inflation. "This was set out in the National-ACT confidence and supply agreement after the last election."
The limit will exclude spending on natural disasters, finance costs, the unemployment benefit and asset impairments.
"These are either outside the Government's control or they help stabilise the economy in a downturn," English said.
"If a Government exceeds the spending limit, it will need to explain why and outline how it intends to keep spending increases within the limit in future."
The Government will consult other political parties on the proposed changes, which will be included in a bill to be introduced around the middle of this year.
However the fiscal cap will have little practical effect because National's limited spending increases are within the proposed cap for the foreseeable future.