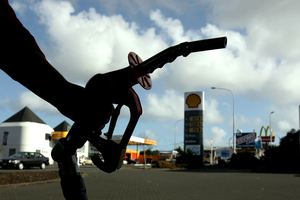 Rising oil prices will be a worry at the pumps but pose only a minor threat to New Zealand's gradual economic recovery, which economists predict is likely to be driven by domestic spending rather than export earnings this year.
The latest ASB quarterly economic forecast, released today, says rising oil prices would have an impact on the global economy but not enough to stall growth.
ASB chief economist Nick Tuffley said petrol prices in New Zealand were back around their previous peak but he remained optimistic the impact would be limited.
"In New Zealand our oil usage is more efficient as we respond to a decade of high prices. There is also a silver lining because higher oil prices directly benefit New Zealand through the increased appetites of oil-producing countries for our dairy and meat products."
The impact on the New Zealand economy was likely to account for only 0.5 per cent of gross domestic product over two to three years.
But households would feel the impact, with petrol prices of about $2.20 a litre likely to increase average weekly spending to about $53, up $12 on the 2010 average of $41 a week.
Overall economic growth was continuing gradually, with ASB predicting GDP would increase to 2 per cent by year's end and 3 per cent by the end of 2013.
Tuffley said he expected an easing in export growth over 2012, which reflected the decline in export commodity prices and the impact of the higher kiwi dollar.
But while key export prices were moderate, household spending was picking up.
"Against this backdrop, we expect import growth will pick up in line with the recovery in domestic demand. As a result, we expect the current account deficit will widen over the coming years."
Tuffley predicted the official cash rate would peak at 4 per cent but the rise in interest rates will be gradual.
"The high New Zealand dollar is a continuing headache for the Reserve Bank, and with economic recovery remaining gradual, interest rates are likely to remain low for much if not all of this year.
"Household behaviour has changed considerably over the past few years, particularly regarding debt, in a way that will make the Reserve Bank's job easier over the next couple of years as it lifts the OCR from its crisis low."
Tuffley noted the recent strength in house prices, with a gradual increase in turnover in recent months particularly evident in the Auckland housing market.
"Underbuilding over recent years, combined with the housing shortage created by the earthquakes, have resulted in a very tight housing market in Auckland and Christchurch," he said.
"Canterbury has years of residential reconstruction ahead of it, and in Auckland rising prices and rents are giving a strong signal to build."
On the global economic front, Tuffley said Europe had made better progress this year in dealing with its debt crisis. He expected the region would continue with its "muddle through" approach to keeping the crisis from becoming more severe.
"Further flare-ups are likely along the way."
- APNZ