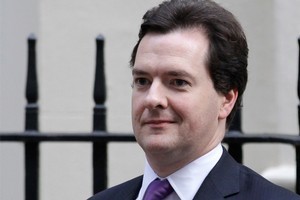 George Osborne yesterday fired the opening shots of the campaign against Scottish independence, warning that Scotland would risk a euro-style debt crisis if it left the United Kingdom.
The British Chancellor also claimed that Scotland standing alone would be unable to withstand a second financial shock and would deter foreign investors.
He spoke out as Downing St signalled its belief that Scotland would have to accept its share of the toxic assets of the Royal Bank of Scotland following its £46 billion ($89 billion) bailout by the British taxpayer.
The Coalition Government believes the SNP Administration headed by Alex Salmond would be vulnerable to a challenge over the practicalities of how an independent Scotland would operate - a stance shared by Labour leaders.
Pro-Union politicians are now preparing to focus the debate on four questions - what currency would operate north of the border, what proportion of Britain's debts Scotland would have to assume, the future of the armed forces and whether border controls would have to be introduced.
Osborne raised the spectre of an independent Scotland joining the single currency when it is in deep crisis. He said: "Alex Salmond has said Scotland should join the euro ... That is not the currency I'd be wanting to join at a time like this.
"I don't think Scotland would be as prosperous as it would be as part of the UK. I think there are businesses that are nervous about investing in Scotland when they don't know about its constitutional future."
Osborne suggested an independent Scotland would have struggled to cope with the financial crisis of 2008.
He said: "If ... you ask yourself, 'would Scotland alone have been able to bail out the Royal Bank of Scotland or Halifax Bank of Scotland?' You ask these questions and you begin to see actually Scotland is better off in terms of jobs and prosperity being part of the UK and the rest of the UK is better off with Scotland as well."
Prime Minister David Cameron's spokesman indicated that an independent Scotland would have to accept a share in the RBS toxic assets.
"The RBS debt is part of the national debt. There would clearly be a discussion about how the national debt is carved up," he said.
Salmond has been reluctant to accept a share of the RBS debt, which he said was the responsibility of the "London Treasury".
The central thrust of the argument against a Yes vote emerged as Salmond repeated his insistence that an independence referendum would be held in 2014 - and not have its terms dictated by London. "The people of Scotland spoke in the election and their voice was very clear indeed."Independent