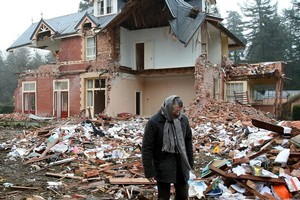 Eating habits among Canterbury women became unhealthier after the earthquakes to cope with stress, a study has revealed.
Canterbury University psychology expert Dr Roeline Kuijer said women who suffered post-traumatic stress after the quakes reported unhealthier eating habits and were more likely to choose food for mood and familiarity reasons.
"Women with higher levels of self-control were more likely to maintain choosing food for health reasons and natural content. Scores on an earthquake impact index - looking at issues like damage, financial strain, whether or not people had power or water - was unrelated to changes in eating habits or motives for food choice."
Rolleston woman Dianne Matthews whose North New Brighton house was destroyed in the February earthquake, said her eating habits changed due to the stress of dealing with insurance issues.
"It felt like each meal could have been my last, that's why I did it. It was a matter of convenience with food. There was no power or water so it was a case of putting a can of spaghetti on the barbecue instead of eating healthy food.
My vegetable garden had fresh produce in it but it was full of liquefaction so I couldn't eat that. I ate a lot of canned food and packet meals, not fresh food," she said.
"It was a stressful event. It was like someone had shaken a snow globe. It was utter chaos. You gave yourself excuses to eat unhealthy and you had more important issues to deal with rather than worrying about what you ate. I lost the discipline to continue to try and eat healthy. You had to deal with EQC and insurance issues."
She moved to Rolleston after the quakes.
"I eat less chocolate now that I've got back on track. I feel like I am almost back to normality. It did take a lot of months for people who were struggling to start to feel normal again. People are still going through the hard yards with their insurance companies and EQC," she said.
The university study, started in 2007 but the focus changed after February 2011 and it became a study that looked at health, well being and eating habits as a result of the earthquakes.
"This is the first study in New Zealand and possibly internationally that has examined eating habits and food choices before and after a natural disaster," said Dr Kuijer.
"Our study started in 2007 but the focus changed after February 2011 and it became a study that looked at health, well being and especially eating habits because of the earthquakes.
"The fact that we had participants before the earthquakes makes this study unique.
"They were all Canterbury residents mostly middle aged and 75 per cent of them were women. For the research questions relating to eating habits only the responses of women were used.
"We asked them what they ate each day, whether they ate junk food and how much they ate. Until after the earthquakes eating habits were fairly stable. Following the February 2011 earthquake participants started reporting unhealthier eating patterns.
"We were interested in whether food choice had changed after the quakes. What they loved to eat to help them cope with stress, easy food to prepare and familiarity became more important in their food choice," Dr Kuijer said.
Respondents mostly preferred food that made them happy and natural content became less important.
- The Selwyn Times