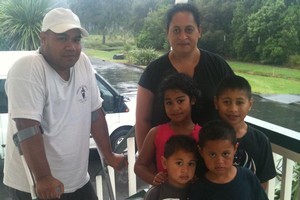 Junior Filimaua and his family have fled Christchurch in fear of more damaging earthquakes and now want to build a new life in Auckland.
The 32-year-old had been working at Coca-Cola's Christchurch distribution centre for just one week when the earthquake struck 10 days ago.
It sent warehouse racks and tonnes of soft drinks that were wrapped on to pallets crashing down on top of him.
He was buried chest-deep. A workmate rushed back to help him out.
"I'm so thankful I'm alive," Mr Filimaua said.
A married father of four, he had a fractured pelvis and dislocated left hip.
He spent two nights in Princess Margaret Hospital before going home early because he was afraid the aftershocks would cause the hospital to collapse.
Walking with crutches, occasionally using a wheelchair, and in pain from his injuries, he is now at the Scouts camp in Clevedon, southeast of Auckland, with his family.
Two of his children, 8-year-old Gordon and 6-year-old Sampson, had surgery when they were younger to correct heart defects they were born with.
The charity @Heart (previously called Heart Children NZ and separate from the National Heart Foundation) supports people born with heart conditions.
It has brought 12 of the more than 300 "heart families" in Christchurch to the Clevedon camp to give them relief from the devastation in their home city.
"Many of the heart families are traumatised by the disaster," the charity says. "@Heart's family support workers and counsellors are on-site at the camp to provide practical and emotional support to these families."
Mr Filimaua said he and his family arrived on Monday.
"It was the first night [since the quake] that I had a decent sleep. I'm still traumatised. My kids were really traumatised, as well as my wife."
Mr Filimaua is a photographer. He and his wife, Silotoa, ran a photo studio and secondhand clothing shop in Hoon Hay, the suburb they lived in with Mrs Filimaua's parents.
Mr and Mrs Filimaua have decided to move to Auckland to start a new life. Things were going well for them in Christchurch but "now it's all ruined".
Originally from Samoa, Mr Filimaua spent more than a decade in Christchurch after two years in Hawkes Bay.
The heart charity has received donations of meat, breakfast cereals, washing machines and other food, goods and services from numerous businesses.
Chief executive Lara Syddall said the overwhelming response to the @Heart appeal meant it now had to stop receiving goods and food, but it did need money for flights and other costs to help heart families.
Details of how to donate are at www.heartnz.org.nz