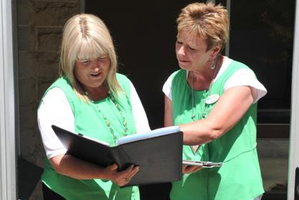 A warrant of fitness rating system for Dunedin rental properties is believed to be the first of its kind in the country.
Otago Property Management implemented the system this week, having spent the past six months developing and trialling it with a small group of property owners.
The initiative was applauded by Dunedin Mayor Dave Cull, and preceded proposals for housing warrants of fitness being considered by the Government.
Otago Property Management managing director Sonia Thom said she was not aware of any other such initiative operating in New Zealand.
The company had been involved in a cosy-homes forum and had discussed its warrant system with the Otago Property Investors Association and tertiary student associations, she said.
"We are working alongside them to look at what happens further down the track. It's important to make a benchmark and start implementing it."
The warrant system gave ratings for heating, insulation, ventilation, energy and safety and provided audits of more detailed information about each property's performance within those categories.
Such information and a visual rating was included in listings.
If properties did not meet standards, owners were encouraged to increase ratings by taking advantage of insulation and energy saving schemes.
Ms Thom said the warrant system gave tenants confidence about rental properties, and owners benefited from having their properties shown to be of quality.
"We see the benefits to both landlords and tenants as being a win-win situation. This is setting a benchmark and it will be self-regulating," she said.
The firm managed about 200 rental properties, most of which were family homes.
Under the warrant system prospective tenants could easily see what they would get for their money and select homes which suited their specific needs, Ms Thom said.
"We are confident the standards we are measuring against will meet and exceed those proposed by central and local government at this time."