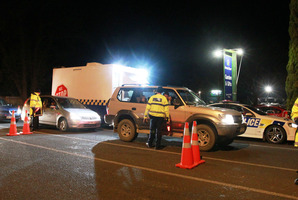 A new ad campaign is targeting "sensible stoners" who falsely believe smoking cannabis makes them more focused behind the wheel.
The New Zealand Transport Agency's (NZTA) latest safety campaign began airing on TV screens, in cinemas and online last night, targeting the misinformed demographic - drivers in their 30s and 40s who smoke marijuana and drive - for the first time.
New Zealand Drug Foundation research has found that half of the drivers killed on New Zealand roads are impaired by alcohol, other drugs or both.
Of those drivers, 20 per cent had used cannabis and more than 25 per cent had used the drug and alcohol. Cannabis was the second most detected substance behind alcohol in drivers involved in crashes.
NZTA road safety director Ernst Zollner said those being targeted were not "risk-takers".
"We're talking to the 'sensible stoners' who believe that using cannabis has little impact on their driving," he said.
"Many believe that they are safer drivers because they think they're more focused, drive slower and are therefore more careful on the roads.
"They don't consider what they're doing to be dangerous - but we're asking them to reconsider that notion, because the facts tell a very different story," Mr Zollner said.
"While it's a commonly held belief that drivers under the influence of cannabis are safer because they drive more slowly, the evidence clearly shows that cannabis use slows down reaction times, which means you are more likely to crash.
"Road crashes happen very suddenly and unexpectedly, and slower reaction times mean you're much less likely to see a crash coming in time to avoid it."
The new advertisements mark the second stage in NZTA campaigns aimed at challenging misconceptions about drugged-driving.
Stage one of the campaign launched in January last year, using real footage captured by hidden cameras to reveal the unscripted responses of ordinary New Zealanders when faced with the situation of being an unwitting passenger in a car driven by someone under the influence of drugs.