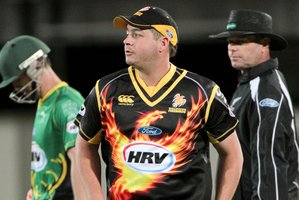 Jesse Ryder's six-month ban for failing a drug test expires today and he will rejoin the Otago squad on Monday to prepare for the start of domestic first-class cricket.
The former international lefthander was sidelined when he returned a positive test for two banned stimulants after a domestic T20 match in March.
The ban started on April 19 and ends today, giving him seven days to prepare for Otago's first Plunket Shield game of the season, against this old team, Wellington, in the capital, assuming coach Vaughn Johnson wants to throw him straight intoaction.
"He's very enthusiastic," Otago Cricket chief executive Ross Dykes said yesterday.
"He's been in the indoor nets and doing one-on-ones with trainers. He's certainly looking forward to running around on grass."
Ryder, 29, went south partly to re-energise a career sagging under the weight of off-field disciplinary issues.
Despite being among the most gifted batsmen in the country, Ryder played the last of his 77 games for New Zealand in February last year, an ODI against South Africa at Napier, when he made a two-ball duck.
Club cricket in Dunedin has begun, and Ryder has joined the Green Island club. Weather permitting, there will be games next Saturday and Ryder would be eligible.
Whether he plays or not comes down to Johnson. As it is the day before the start of the Wellington match, it's unlikely Ryder would play both.
"Vaughn's quite keen for the boys to play club cricket when they can because they don't get much opportunity. I would have thought provided it fits into Jesse's buildup programme (he would)," Dykes said.
Ryder won't play a game at Otago's home ground, University Oval, until they face Canterbury in an HRV Cup game on November 8.
Otago's first three Plunket Shield games - against Wellington, Canterbury from November 19, and Northern Districts from December 4 - are away fixtures.