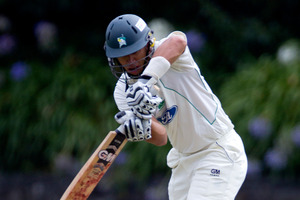 Watching Ross Taylor go about his work in the slip and media cordons yesterday for Central Districts against Auckland left the impression of a man brimming with resolve to continue his international career.
A serene disposition indicated he is over the saga of his ouster as captain in favour of Brendon McCullum two months ago. Staccato answers to questions about this week's meeting with coach Mike Hesson - "It went well, thank you" - suggested sufficient controlled fury to help him to a feast of runs against England.
Taylor didn't watch a lot of the South Africa series because of the time difference but doubts he could have swayed things. "You always feel for them when they lose but I don't think I would have made much difference. It would have been nice to go if the situation had worked out ... but we're on to the next story now."
CD won by 191 runs yesterday, overcoming a first innings deficit of 115. They have extended their lead in the Plunket Shield regardless of what happens elsewhere.
Taylor played the role of team man, helping knit together fine bowling from Tarun Nethula, Bevan Small, Doug Bracewell and Kyle Jarvis with catches and encouragement.
Nethula produced the second-best bowling figures of his first-class career. He bamboozled the Auckland batsmen with six for 55 as the hosts were dismissed for 151, chasing 343 to win. Taylor snaffled a late catch off Matt Quinn and let another go to second slip Jamie How from the bat of Reece Young.
Young succumbed to Bracewell, who produced a good line and length and got the ball to nip away, indicating he is returning to the form which earned him test selection.
Taylor's catch gave him seven in his two post-captaincy matches. He is hoping that qualifies him to return to his specialist slip spot: "We'll have to ask Baz. I think I'm pretty good," Taylor laughed.
The incumbent test No4 admitted being rusty with the bat, scoring 98 runs at 24.50 in four innings over the past fortnight, including a 52. He fell to two caught behinds, a bowled, and an lbw, suggesting his footwork needs a polish.
Taylor was not weighed down by possible deficiencies ahead of the England series: "Just bowl short," he quipped when asked about how the English should target him.
"As the senior batter, my job will be to score consistent runs. I just need to get more rustiness out of my batting and get some big runs.
"When you play cricket full-time and spend 14 months on the road, you don't get a chance to work on your game. I've been tinkering but cricket is mainly played upstairs [in the mind]. I'm looking forward to getting my love for the game back and enjoying myself.
"It's been good to not have any time restraints [in the four-day game], to get out and play some shots. Hopefully I can clear my hip a bit more in a couple of weeks.
"It'll be a strange feeling coming back into the set-up but hopefully I can repay the support of those people who have shown faith in me the last six to seven weeks."
Taylor is yet to speak to McCullum but elaborated on his Hesson meeting.
"We said what we had to say and it went well. Yes, it's a work in progress, but it went well. I'm just going back in the team to help them win games.
"That's my role and I'll bat wherever they need me to. It'll be great to just get back to being a player and lead in other ways. You don't have to be captain to be a leader."