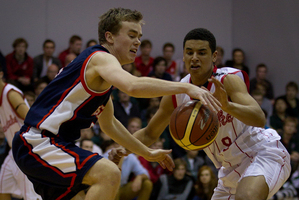 With the expectation of victory and a first Auckland SS soccer premier title hanging over them, Sacred Heart faced a must-win home game against Takapuna Grammar School in the last round.
Fully aware a win would end the title hopes of their only challengers, WBHS and St Kentigern, Sacred Heart, with a number of players in their last year at school, were determined to show why they are the reigning national champions.
It was not easy but once Peter Jones nodded home a Michael Durkin cross to break the deadlock on half an hour, the nerves settled and when Dylan De Jong added a second, from Joe Junge's header across the goal from a corner, the celebrations began.
TGS, doomed to relegation unless they could win, battled bravely and late in the spell broke deep and from a collision in the Sacred Heart goal claimed a penalty but found no favour from the referee.
The visitors battled on but the fight was quickly drained from them when Jones added his second for a 3-0 lead three minutes into the second spell.
Captain Durkin, in his 100th 1st XI game and last on home soil, tried to cap it with a goal but in the end was content to set up Jones for his hat-trick as the victory was completed in style.
Elsewhere perennial front-runners MAGS and AGS ended their seasons with a 2-1 home win over KBHS and a 1-1 home draw with Rangitoto respectively. MAGS finished fourth and AGS sixth after their most disappointing efforts in recent years. Both will, however, line up at the Lotto Sports premier tournament in Nelson during next week's winter tournament week. They will again be the teams to watch although Sacred Heart will be the one to beat as they attempt to defend their coveted crown.
In other last-day local action, St Peter's bounced back to the premier league in style, beating second-placed Rosmini 6-1 to claim the senior A1 title by 13 points.
Led by captain Nathaniel Hailemarian, St Peter's played quality football throughout the season, winning 13 of their 14 league matches, scoring a remarkable 69 goals and conceding just 14 in the process.
Hailemarian was well backed by David Browne in the goal-scoring department while vice-captain Daniel Menzies directed play superbly in midfield.
Their winning points margin could be reduced by one today should Liston beat Glendowie in their outstanding game which could also have a bearing on the final placings and with it promotion. The other game in that mix, between King's and Glendowie, will be played on Saturday.
Meanwhile, Westlake BHS will be represented in all three matches on Knockout Cup finals day next month.
The North Shore school will be out in force at Bill McKinlay Park on September 15 from 10am when they will play Sacred Heart in the 13th grade final.
Two hours later WBHS will square-off against Macleans in the 15th grade showpiece while at 2pm they will tackle a MAGS side determined to salvage something from what has been a disappointing premier league season.
BASKETBALL
Living up to all expectations and with a win each in round-robin play, neighbours Westlake BHS and Rosmini squared off at Carmel College for the premier boy's title.
In the end WBHS edged ahead in the final quarter to win 90-79 but not without a fight in front of 400 screaming fans.
Westlake's Jaylen Gerrand set the scene, potting three three-pointers in the first quarter to help his team to a 25-18 quarter-time lead. Rosmini competed strongly, led by their captain Matthew Lacey and Derone Raukawa, who led all scorers with a game-high 31 points.
However, Westlake, led by Tall Black and match MVP Tai Webster, were able to repel Rosmini's attack and hold on to their first-quarter lead throughout the match. Another clutch of three-pointers in the final quarter by Gerrand got Westlake home.
The other Greater Auckland Championships were decided at Trust Stadium, where Rangitoto College showed their depth with teams in all grade finals.
In the under-15 boys Rangitoto took an 11-5 first-quarter lead but Auckland Grammar slowly clawed them back and with a buzzer-beating shot from halfway by captain Ken Smith the teams were level going into the last quarter.
The game was eventually decided in extra time with AGS slotting the match-winning two points.
It was never close in the under-15 girls with WGHS, led by Tera Reed who top scored with 19 points, beating Rangitoto 63-23.
The under-17 boys final was played earlier in the week between WBHS and Rangitoto, with Westlake 51-44 victors.
In the girls final Rangitoto proved too strong for Henderson High with captain Casey McFadden leading them to a 35-25 win.
Rangitoto's open grade boys, keen to rejoin their girls in the premiers, came out firing against Glendowie College and raced to a 22-1 quarter-time lead which they never relinquished. A young team, Rangitoto showed they will be a team to watch out for in the premiers over the next few years as they completed their 56-33 victory.
The open girls grade final between Baradene and Massey was won 28-19 by Baradene, who sealed a place in next season's premier grade.
HOCKEY
St Kentigern, already crowned rugby champions, have the chance to add another title to their 2012 haul when their boys line up in today's grade one final against WBHS at the North Harbour Hockey Stadium.
The winners of the Auckland title, St Kentigern go into the inter-city final for the first time after beating King's 1-0 in last week's semifinal. St Kentigern prevailed by the same margin over defending Rankin Cup-holders King's in the Auckland final in claiming that title for the first time since 1988.
St Kentigern's only loss this season came in pool play of the inter-city when they fell to WBHS.
In all matches this season St Kentigern, led by goal-grabbers Sam Jimmieson, Craig Kamins, Richmond Lum and Lorenz Bartsch, have scored 62 goals and conceded just seven.
In the girls final tomorrow, Rangitoto, 4-2 winners over Diocesan, will play St Cuthbert's, who needed a penalty stroke victory over a plucky Carmel to win through.
Reaching the final has capped a good developmental year for Rangitoto and their relatively young team led by captains Summer Notredame and Alex Pirie.
Up against it, they still managed to finish second in the North Harbour grade one competition and carried that good form into the inter-city where they came away with a win and a loss to keep their hopes alive.
At the business end of the season they showed they were ready and took that determination into the semifinal, intent on reversing an earlier loss to Diocesan, and duly delivered to book their place in tomorrow's final and another clash with St Cuthbert's.
LAWN BOWLS
One-shot wins were the order of the day after some close contests in the Auckland inter-school semifinals at the Remuera BC.
Tied at one game all, the match between Papatoetoe High and St Peter's College was decided in the A pairs' battle. Playing the last end Papatoetoe led 12 shots to eight but with St Peter's holding four shots with only the last bowl to be played. The Papatoetoe skip calmly drew third shot for a 12-11 win.
The clash between Auckland Grammar and Dilworth was also tight. Playing the last end scores were locked 8-8 before a feeler gauge measure gave AGS shot and a 9-8 victory.
RUGBY
North Harbour: Talk about home advantage. On a day when the curtain came down on the season with the playing of the grade finals, all teams playing at home grabbed the spoils.
A big crowd turned out at the Domain and Oval grounds to watch Birkenhead College pip Orewa College 19-17 in the final minutes. In the coveted 5th grade final Rosmini A beat Massey Gold 20-12.
Orewa dominated for large periods of the 1B final but could not score in the final quarter to put the game beyond Birkenhead's reach. Birkenhead broke out late in the game to score a great try to level the scores 17-17. The conversion was kicked and Birkenhead carried the day to claim the 1B shield. Birkenhead and Orewa are now promoted to next season's 1A 1st XV grade.
Rosmini had dominated the 5A grade all season and put in a strong performance against Massey Gold to convincingly take the 5A championship.
In the other A grade finals Westlake 4th XV defeated Massey 3rd XV in the Open C Pool A final 32-24, Rosmini A edged Westlake A 14-7 in the 4A final, Rosmini A kicked their way to a 15-13 victory over Westlake A in the 6A final and unbeaten Westlake A comfortably defeated Rosmini A 27-0 in the 7A final.
Waikato: Hamilton BHS outclassed Rotorua BHS 38-17 in the Chiefs region NZSS semifinal after leading 15-3 at halftime with the home side outscoring the visitors five tries to two.
Top performances from big prop Wade McLean-Te Huia, No 8 Tallis Karaitiana and rangy lock Apisai Tauyvacua ensured HBHS dominated the forwards contest from the start, ensuring their side obtained plenty of quick, quality possession. Tauyvacua, in particular, won much ball at the lineouts, as well as scoring two fine tries with his determined running with ball in hand.
Hamilton's solid second-five, Hohepa Gibb, frequently breached the Rotorua defensive lines, while fullback Te Raina Richards-Coxhead also ran sharply, as well as nailing the goalkicks that mattered.
Hamilton now play Wesley College away on Saturday in the final of the Chiefs region playoffs with the winner proceeding to the National Top Four playoffs.
ON THE WEB