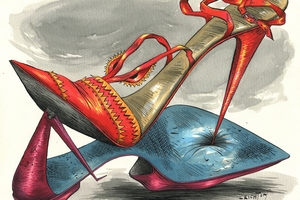 If there is anything we have learnt about functioning modern femininity in the past four weeks, it is this: if you are attractive, do not signal the fact in advance to prospective employers.
Israeli researchers recently found that if an attractive female job-seeker sends a CV with a photo attached, her eventual boss - probably a man - might like it, but the scores of women staffing modern HR departments will not. They are more likely to throw any cross between Cindy Crawford and Kim Kardashian on the scrapheap when identifying the right applicant, opting for the pedestrian female face almost every time.
In some countries this is not an issue, as job-seekers don't even submit their names on their CVs, lest it prejudice the outcome one way or another (a great practice, I reckon, and one we should adopt here). At the very least, photos should be kept off CVs; unless you are applying to be an escort or a TV presenter, it's just not relevant.
Another lesson in the art of being a modern woman we have learnt recently is that if you are a fine-looking specimen of a female, and somehow manage to elude the HR harpies and actually get the job, for goodness sake never say anything about how gorgeous you are.
A maniacal belief in your own talent and promotability seems de rigueur in many modern workplaces, but as the unfortunately named Samantha Brick has just illustrated, a firm and genuine belief in your own sexiness is a definite no-no - especially to other women.
Neither the Israeli research findings nor the Samantha Brick firestorm reflect particularly well on the sisterhood. One speaks to an almost innate female jealousy of better-looking women, the other, a kind of self-loathing that finds expression as anger.
But has the sister "hood" ever really been a friendly one? There is a current preponderance of "women in X" industry groups, female mentoring schemes and other efforts where women come together to promote the gender's advancement at work. I often wonder, quite cynically, if these efforts by women for other women actually pay off, or simply provide the female equivalent of the golf course for men - with all its one-upmanship and keeping-an-eye-on-the-competition; its gossiping and toadying.
I am skeptical about the idea of large groups of women wanting to help other women in the workplace. Like many others, I have had fantastic female bosses who inspired me with how hard and smart they worked, how dedicated they were and how brilliantly they multi-tasked both their home and work lives. But the worst of them were horrible micro-managers, driven by insecurity and aggression, who did no favours to women coming up through the ranks. Quite the reverse.
From what I've seen, these poisonous vipers are often driven to distraction by the woman who is confident, self-assured, and often quite pretty as well.
Which perhaps explains the vitriolic response Samantha Brick, that saucy British sexpot with the slightly wonky nose, encountered when she asserted that indeed, most of her female friends ended up hating her because their husbands found her irresistible. Shot down in flames is a nice way of putting the ensuing media maelstrom.
Whether her female friends hated her because their husbands couldn't stop drooling, or because Samantha is an arrogant ass, is obviously an entirely different question.