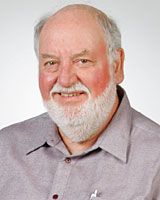 A new prostate cancer drug showing stunning results in Britain could successfully treat hundreds of New Zealand men.
Scientists are hailing the drug, called abiraterone, as a major breakthrough in the treatment of highly aggressive prostate cancer which, before now, has been almost an untreatable disease.
It is said to be the first significant advance for many years.
Tumours shrank in almost 80 per cent of men on the initial trials and the amount of prostate-specific antigen (PSA) - a blood marker for the cancer - halved, showing that the one-a-day pill was remarkably powerful.
The quality of life of men in the trial, whose cancer was advanced and had spread to other parts of the body, improved and they were able to come off painkillers.
New Zealand Prostate Cancer Foundation president Barry Young said any drug that showed promise to prostate cancer patients was welcome.
Being told you had cancer felt like a death sentence, he said. And for 600 of the 3000 New Zealand men diagnosed with prostate cancer each year, it was.
"Anything that can save men's lives is just absolutely fantastic. If this is a breakthrough, my God it is going to save a hell of a lot of lives in New Zealand."
Almost one in three prostate cancer patients suffer from a highly aggressive form of the disease. Unless detected early, the cancer spreads rapidly to the spine and bones, causing severe pain, bone frailty and death.
A worldwide trial of abiraterone, involving 1200 men, is being undertaken this year, although that trial will not reach New Zealand.
Medsafe spokesman Dr Stewart Jessamine said drug companies had to apply to Medsafe if they wanted their trials to include New Zealand.
"And there are no applications in at the moment."
If the continuing trials are successful, it is expected the drug will be available as early as 2011.
Created at Britain's Institute of Cancer Research and the Royal Marsden Hospital, abiraterone works by blocking hormones that fuel the cancer, and working against hormones produced by aggressive tumours.
It is not clear what the long-term effects of blocking hormones will be, or for how long men will have to take the drug. Patients on the trial reported fatigue, weight gain and fluid retention.
The drug is taken orally once a day, and does not need to be taken in conjunction with chemotherapy.
Dr Johann de Bono, the lead researcher, said those involved in the initial trials had "very aggressive" prostate cancer, which was "exceptionally difficult to treat and almost always proves to be fatal".
"We hope that abiraterone will eventually offer them real hope of an effective way of managing their condition and prolonging their lives.
"This drug is highly effective. The tumours shrink, the pain goes away and the PSA levels fall. Some have been on it for up to two years and eight months and are still doing well."
He said the drug could also be useful in the treatment of other cancers that were fuelled by hormones, such as breast cancer, and studies were under way to investigate that.
New Zealand specialists the Herald spoke to had not heard of abiraterone and they cautioned against labelling it a "wonder drug" until long-term studies had been completed.
- ADDITIONAL REPORTING BY AGENCIES
By Craig Borley

Email

Craig