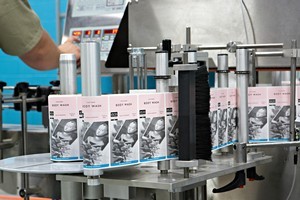 Undercover boss star Sheldon Yellen has a framed copy of a New Zealand Herald article hanging in his US office.
The Herald article led Yellen and old friend Charles Kaye to Kiwi-based eco-products manufacturer Ecostore. The pair now own and run the company's US arm.
Kaye, who had retired after 30 years as a manufacturer's representative for fast-moving consumer goods in companies such as Walmart and Target, was looking for a new project.
His personal trainer, Lyne Appel Downing, (now operations vice-president at ecoSTORE USA) suggested an eco business and volunteered to research the market.
Downing spotted the article online and made a case for it to her employer. Kaye and Yellen - who is chief executive for the world's largest disaster-recovery company Belfor USA, and who featured in an episode of Undercover Boss - knew they'd found what they were looking for.
Ecostore founder Malcolm Rands said its certification, testing model and product integrity were well ahead of anything available in the US at the time.
The focus on health had created a loyal customer following in New Zealand and Kaye and Yellen believed they could replicate the success in the North American market.
The pair contacted Rands, who didn't take the approach too seriously at first.
After exchanging emails, Rands agreed to meet Kaye in San Francisco on his way back from BioFach, the world's biggest organic and eco trade show in Germany. The deal they negotiated resulted in Kaye and Yellen owning the US business, under licence to Ecostore.
Initially, ecoSTORE USA imported several containers of product from New Zealand but the business plan was based on local manufacture in the US and the company bought a fledgling eco factory in Auburn Hills, Detroit, where Kaye lives.
The US operation differs from New Zealand in several ways. One is that it produces pet products. It also has different models with its distributors.
"We are in about 10 states, but it is still a learning process," Kaye said.
EcoSTORE USA employed 13 people, but Kaye hoped to increase this to 100 and hit break-even in a year's time.
Cracking the US consumer is more difficult, too, as North Americans are less ecologically aware than their Australasian counterparts.
"Seventy to 80 per cent of the US buying population is driven by price. They buy the cheapest garbage, smoke two packets of cigarettes a day and eat at Burger King."
What's more, the minimum wage at $8-an-hour in the US means that a consumer must work more than an hour to pay for a $10 bottle of Ecostore product, compared to half an hour in Australia and less than an hour here.
Rands said household cleaners were a commodity for most people and the company needed to work hard to educate consumers. "We were the first [manufacturer] to make sure the health of the users of our products was the most important thing. The regulations don't cover that."
The benefits for Rands' Kiwi operation are greater than just revenue. "When you are a tiny company from New Zealand and you don't have much capital behind you, you need people with deep pockets," he said.
"We now have the world beating a path to the factory in Detroit. It is the greenest factory in the US. We have almost twice the intelligence we had and it is helping us with our international supply chain.
"We have dropped the price of some ingredients by almost half because of the economies of scale in the US."