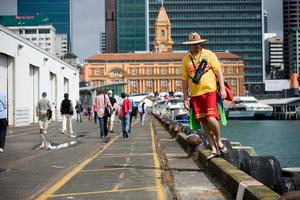 Plans for a development at Queen's Wharf before the 2011 Rugby World Cup have been put on hold.
The winner of a design competition for the project was supposed to decided today, but Auckland Mayor John Banks and the Auckland Regional Council chairman Mike Lee were not impressed with the entries.
They have decided instead to "go away and have a cup of tea" to consider what might be done to the area.
Mr Banks said yesterday he was considering canning the upgrade, concerned the city would inherit another mediocre development if the Queens Wharf upgrade proceeded.
"One of the options could be to do next to nothing," Mr Banks said.
Mr Lee had already described the designs as "lacklustre, underwhelming and mediocre".

- NEWSTALK ZB, NZ HERALD STAFF