Turn bathtime into restful relaxation, says Greig Morgan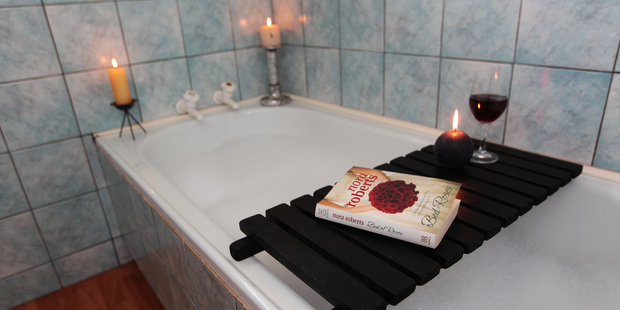 Lying in a nice hot bath is a great way to relax and unwind on these cold winter nights, but where do you put your book? Your drink? Your snacks? And where do you put your phone, if you're feeling daring? A bath tray for all your essentials offers a whole new dimension to a good soak.


Step 1 - Measure the width of your bath and cut two 25x25mm lengths as support rails to sit on the bath sides. My bath has raised outer edges so I cut mine to fit inside. This avoided tray falling into the bath if bumped it.
Step 2 - With the aid of a square, measure, mark and cut your slats from the 45x25mm. I needed 12 300mm long slats.
Step 3 - On the support rails, measure and mark for the placement of the top slats, leaving an equal space at either end. I allowed a 10mm gap between each slat.
Step 4 - Measure and mark the centre of the support rails for the placement of the centre slat. Then measure along the support rails and mark at even spacings for the placement of the other slats.
Drill holes at the pencil marks using a 3.5mm drill bit.
Step 5 - Sand off sharp edges and round off the ends on the supports and slats.
Step 6 - Measure in 25mm from both ends on the underside of the slats. Starting at one end and working along, line up the support rail marks to the marks on your slats and fix in place with 32mm screws. Countersink the screws just below rail surface.
Step 7 - With the rack assembled, sand the top smooth and remove all dust with a damp rag. Paint or stain to suit.


Materials
• 25x25mm dressed pine or timber to suit (support rails)
• 45x25mm dressed pine or timber to suit (top slats)
• 120g sandpaper
• Paint /stain
• 32mm 6 gauge screws
Tools
• Sharp hand saw
• Screw gun
• 3.5mm drill bit
• Tape measure
• Square
• Pencil
• Quality paintbrush