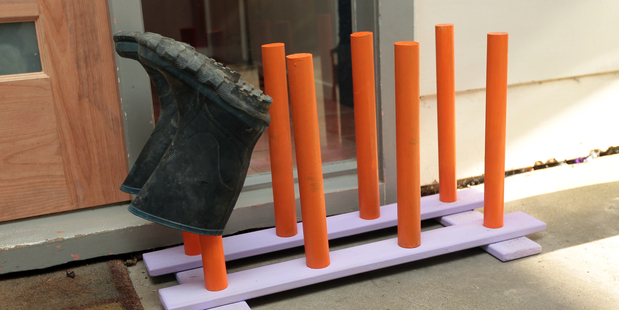 Gumboots are just the job at this time of year but although they look great on, they can make the back doorstep look like a tip when they're off, especially when there's a whole family dumping their boots around the doorway.
Why not have a go at making this easy-peasy gumboot stand?
The boots will all be out of the way and never again will you suffer the horror of your wellies filling with rain when you're not in them.
Step 1
Using a square, measure and cut two pieces of decking to length for the feet and frame. I cut the feet about 360mm long. This allows about 50mm overhang at either side and a spacing of the decking in between. Cut the frame about 800mm long. This allows about 50mm overhang at each end.
Step 2
Using a 5mm drill-bit, drill holes for the placement of screws. Fix the feet to the underside of the frame with 35mm screws.
Step 3
Measure and scribe with a pencil along the centre of the frame as well as the centre of the feet. From the feet, mark points 200mm apart at even spacings and drill holes for the dowels.
Step 4
Measure, mark and cut enough dowels to suit the depth of your gumboots. I cut mine at 400mm.
Step 5
Line up the centre of each dowel to each pre-drilled hole and carefully fix in place with 65mm screws.
Step 6
Using a sharp plane, tidy the ends on the legs and frame.
Tip If using a variety of colours, paint components first before assembling.