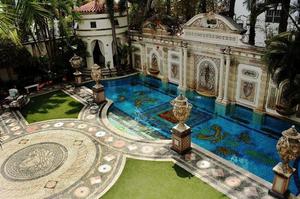 The South Beach mansion once owned by Italian designer Gianni Versace is headed for the auction block.
Fisher Auction Company will handle the sale of the 2,135 square metre home on Thursday (local time).
The mansion had previously been listed for $US125 million.
Originally built in 1930, the 10-bedroom, 11-bathroom, gated home features a 16.5 metre long mosaic pool lined with 24-karat gold.
It also includes numerous frescos, ornate statues, arched doorways and an open air courtyard.
The home at 1116 Ocean Drive received national attention in 1997, when Versace was fatally shot in front of the property.
He had purchased the home in 1992 and spent about $US33 million renovating.
Tourists can still routinely be spotted taking photos in front of the house.
The property had been operating as a 10-room boutique hotel but closed earlier this year.
- AP