A courtyard is easy if you follow Greig Morgan's simple instructions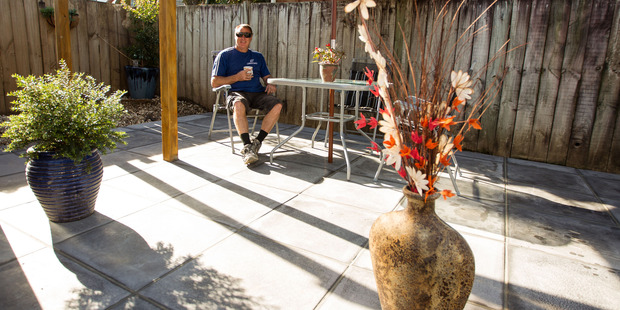 Winter is when we're reminded how some areas of the section can get boggy. But you don't have to stand for the mud. Take these practical steps, whether it's for a courtyard, a path to the clothesline or something more ambitious.


Step 1 - Excavate and remove the topsoil to about 150mm deep, or down to hard clay.
Step 2 - Set up string lines tied to stakes at either end of the area to be paved, at the height you want to pavers to sit at. Allow for a fall of at least 10mm per metre sloping towards a drainage point. Use a level to help.
Step 3 - Fill the excavated area with gap 20. Rake out and screed the area to about 60mm below the string line. Compact the base thoroughly.
Step 4 - In the concrete mixer, mix 5 parts gap 7 to 1 part cement with clean water, to a porridge-like consistency. Place pavers from a corner or along straight edge. My starting point was square off the corner of the garden shed.
Step 5 - Place each paver on a bed of concrete making sure the paver is supported on the outer edges and middle. The concrete should be able to spread out when the paver is tapped down with a rubber mallet to the string line heights. Check levels of pavers regularly.
Step 6 - After the full paving is laid, cut in pavers for the infills with a diamond blade on your angle grinder. Wait about 24 hours before walking on finished paving.
Step 7 - Mix 3 parts silica sand to 1 part cement with clean water to a toothpaste consistency. Fill joints a section at a time, making sure grout is fully compacted.
Step 8 - Clean up excess grout with a bucket of clean water and sponge. Rubber gloves handy here.


Materials
• Base course (gap 20 with lots of fines)
• 600x600 x 40mm pavers
• Gap 7 with lots of fines
• Cement
• Silica sand
Tools
• Protective wear
• Wheelbarrow
• Concrete mixer
• Plate compactor
• Screed bar
• Spade/shovel
• Rake
• Level
• Rubber mallet
• Tape measure
• Stakes & string line
• Grinder with wet/dry diamond turbo blade
• Bucket
• Sponge
• Rubber gloves