Uncles, cousins and fathers helped make a Remuera redevelopment a resounding success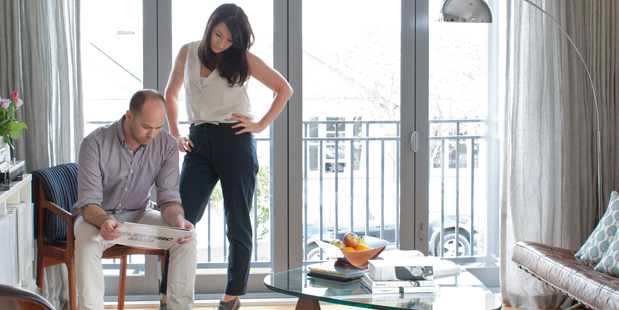 Buying into a redevelopment project is not for the faint-hearted, but it helps when you have an enterprising and talented extended family involved.
And that was certainly the case for Caroline Bell-Booth and Matt Hodgson. Their property in Auckland's Remuera is one of three terrace houses that started out as a 1950s brick, board and batten dwelling but have since been given a modern facade and internal makeover by the couple's extended family.
Bell-Booth's cousin, Emily Goodwin, an interior designer with a degree in architecture, designed the redevelopment with her civil-engineer father as project manager. The three homes have different looks, which meant considerable design and technical skills were needed, as well as faith in family relationships. "You have that confidence and trust," says Bell-Booth.
There were regular family meetings throughout the nine-month redevelopment process, which involved extended family and friends taking different roles.
Bell-Booth's father, a lawyer, oversaw the legal aspects of the purchase, and the plumbing was done by the company that Goodwin's husband works for; the electrical contract by the partner of another cousin, and the kitchen work by the company owned by Hodgson's brother-in-law.
Bell-Booth did her part in the project by turning out trays of baking from the makeshift kitchen while living on site. Always in her mind was her new kitchen and scullery, which she calls "an entertainer's dream".
The couple decided to forgo a second bedroom in favour of a larger kitchen and the scullery, which features Bell-Booth's ceramic collectibles. In the kitchen, Goodwin designed a pull-up splashback panel to create an appliance garage out of an alcove created by the "kink" in the firewall between this home and the neighbouring dwelling.
Bell-Booth says the vision was vital in getting the project completed to such a high standard, and describes the bathroom as a "triumph", with its his-and-hers cabinets, double shower head and night light under the wall-mounted cabinetry.
She says Goodwin's ability to keep her focused was especially valuable when it came to the look of the bathroom. "I wasn't sure about having a basin on top of the bench but I came around to the idea. Now I think it's really quite handsome."
The only problem now is that Bell-Booth never wants to go out. "This is a really nice house and it has turned me into a notorious hermit because now all I want to do is entertain at home."


Style tips
Material gain: Because the main bedroom is carpeted, its original tawa floorboards were lifted and used to provide matching flooring for the living room extension. New carpet was then laid over particle board flooring.
Displaying differences: Matt and Caroline's mantelpiece tells a story about their design interests, with Caroline's Crown Lynn salt and pepper shakers and Matt's toy tin trucks on show.