The cabbage tree is more important than it sounds, says Justin Newcombe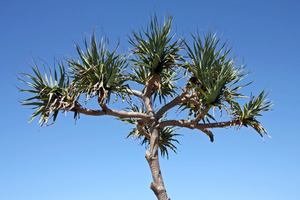 When I think of cabbage trees I am now loath to think of the tropical cordyline so popular in contemporary gardens. I have, in the past enthused about these interesting plants with their strong colours and glossy, almost varnished leaves. Maybe it's an age thing or maybe it's just seeing how important, ecologically speaking, the humble cabbage tree plays in our landscape.
Ti kouka is the Maori name for cabbage tree, and is eminently more palatable. In the UK it is known as the Torbay palm, which is suitably pompous. Although I know why it's called the cabbage tree in New Zealand, I still think it is a travesty to give something with so many beautiful attributes a name which affords it all the romance of a Dickensian nightmare. So for the purposes of this article I'll stick to the Maori, ti kouka.
The biggest complaint you get about ti kouka is the leaves falling to the ground. More than most trees this is a problem because you are unable to mow over them as the fibrous strap-like leaves wrap themselves around the mower blade shaft. Another complaint I've heard is that they don't compost, which is rubbish.
If you put cabbage tree leaves in a big bundle in the bottom of the compost bin and expect decomposition in six months then of course it won't. But nor will autumn leaves or even lawn clippings. If, however, you layer the leaves carefully, wetting them thoroughly and making sure they are in contact with some soil or sheep or cow poo or even existing compost, the extra biology in the organic matter will ensure the leaves decompose.
It will take 12 to 18 months, but it will happen.
What fascinates me most about ti kouka is the flower. Ti kouka is actually a member of the orchid family and a closer inspection of the flower head will give you a whole new appreciation of its aesthetic qualities.
The flowers appear on a branch, are small and quite waxy, with hints of lime and ruby in the bud. They produce enough nectar to create quite a stir with the bees. Then as they go to seed, they become a target for many birds.
One of the most pleasing attributes of the tree is that it is tough and reasonably hard to eradicate, thriving in marginal soils and through drought and flood. This versatility makes it an excellent candidate as a coloniser along with manuka and the shrub varieties of the pseudopanax family.
Colonisers are the really tough, low-maintenance trees that you get growing first to provide a nursery for seedlings of larger, slower growing and more vulnerable species. Start with ti kouka if you wish to introduce other native plants to your property, especially on a large scale. Ti kouka also provide a habitat for birds; they poo seed and introduce new plant species among the established trees.
From time to time our cabbage tree population is threatened by the spread of Sudden Decline Syndrome, which is particularly prevalent in low lying, rural environments. It has, on occasion, decimated more market-oriented species such as purple tower, albertii, green goddess and kasper, which are more closely related to the alpine varieties.
Like so much of our flora and fauna we only ever see the importance of these things once they're gone. I'm not sure I'd miss the cabbage tree if it were one of these unfortunates, but I'd hate to find out the hard way.