Creative events and visual merchandising team Tim Mckeown and Davina Prankerd share their eye-catching tastes.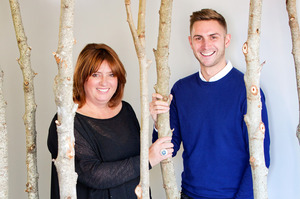 At a fashion show in Auckland last month, beautiful floral installations on white plinths in the centre of the runway made as much impact as the clothes, with their shooting stems and dreamy colour palette. Tim Mckeown and Davina Prankerd were behind the fit-out, under the guise of their new creative events and visual merchandising agency Vida Concept.
The pair combined their talents to launch the agency last year - Prankerd also owns the long-running Newmarket florist Vida Flores, while Mckeown moved to Auckland last year to work as project manager for Corporate VIP hospitality at Eden Park and Westpac Stadiums over the Rugby World Cup, after 10 years in London as an event professional and visual stylist. Their work may involve event styling, window dressing, visual merchandising or floral installation, using everything from a sketch pad, design books or branches - all things that factor as some of their favourite things.
10 FAVOURITE THINGS
1. Compact Nikon camera
Tim: A must-have when setting up events. Watching the evolution from a blank space to a possible wonderland needs constant documentation.
2. Branches
Tim: I can't seem to say no to using some form of tree or branch within our schemes. It breathes life into everything we do and is a great foundation in order to dress on top of.
3. Wheatgrass shot
Tim: I have become a fan of wheatgrass juicing. We built a lawn made from lush wheatgrass for a PR launch and thought it would be a shame to waste it. We now have a fantastic supplier - Keith's Wheatgrass - who is as passionate about his grass as we are about our events. We have the juicer here in the office and I try to get all the girls into the shots.
4. Black Pilot fine liner & Moleskin sketchpad
Tim: I draw concepts and ideas for all my clients, and it's a rawness that appeals in a usually computer-aided industry. It describes something so simply and quickly. An essential bit of kit at all times.
5. Man bag
Tim: I was born and bred in London so I've always travelled on the Tube, and running from meeting to events with portfolios, bulky swatches, pads, pens, staplers, I have always had a ginormous man bag to fit everything in. I can't leave the house without it.
6. Fabric
Davina: Natural fibre. I have bins full of fabric that I fall in love with and hope one day I will get the time to do something with, whether it is upholstering a chair or making a new dress for my daughter. Texture, colour: it's all about the senses.
7. Design books
Davina: I have a growing library of books for inspiration - interiors, florists, botanical, gardening, cookbooks. It always amazes me how I can keep coming back to them and see something I haven't taken note of before.
8. Magazines
Davina: I have to say magazines are my addiction, I can't get enough which sometimes gets a bit scary on the bank account.
9. Flowers
Davina: Even though I spend all day with flowers, I never tire of them. Every market day I find a bloom I love - this changes with every season and sometimes every week.
10. My staff
Davina: I have always had a great team of people who work with me. Together we inspire, energise, stress and love what we do. The addition of Vida Concept and Tim to my team has added a great new dimension and allows me to do more of the things I love.