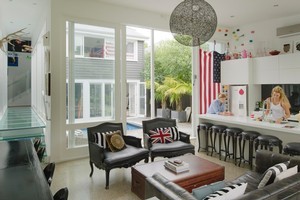 Sally Ridge is marketing her Grey Lynn villa using a photograph exposing a controversial golliwog doll.
Images on a real estate website show the golliwog in a bedroom of Ridge's Auckland home, which goes to auction on February 22.
The word "Black" is written in vertical lettering on a wall in the same bedroom.
Kellands agent Martin Dobson said the golliwog was not deliberately placed or staged in marketing shots. "I didn't even notice it," he said.
In August the sale of golliwog dolls at Auckland Airport created a furore when Outkast rapper Big Boi tweeted a picture of them.
The toys became associated with the racial insult "wog" in the 1940s and have been banned in some countries.
But Race Relations Commissioner Joris de Bres said it was up to Ridge if she wanted keep golliwogs in her home.
"If somebody wants to market their house with a picture of a golliwog, it's their business."
Ridge, an interior designer, bought the home one year ago and shares it with her four children.
The three-bedroom home has a CV of $1.6 million.
- Herald on Sunday