Presentation counts for everything so Greig Morgan has devised the perfect tray.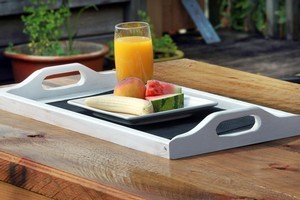 The sun is out, it's a long weekend, so it's time to invite some mates around for a coffee, lunch or a barbecue. Trying to carry all the bits and pieces you need to your outdoor table can be a bit of a juggling act, so here's an idea for a simple tray that will carry a heavy load, and looks great.
Step 1
Take your 6mm MDF and measure and mark the size you want your tray to be. Mine was 300mm x 580mm. Cut out with a sharp handsaw.
Step 2
Using a hand router, rebate 6mm deep x 9mm in on the sides and end pieces.
Step 3
Using the 45 degree angle on the builder's square, measure and cut both ends of the two side and end pieces so they will fit neatly into the rebate on the bottom panel.
Step 4
Handles: On each end piece, measure the centre and then 50mm either side of that. Then measure down from the top 15mm, and down from there 30mm. Use a jigsaw to cut along the lines. Tip: Use a G-clamp to hold the timber still. This will make the job a lot easier and safer.
Step 5
With the handle now cut out, mark an angled line down from the top of each handle to line up with the top of the side pieces. Cut to the line. I've added a slight curve which you can achieve with a jigsaw.
Step 6
Run beads of glue along the rebate and on the mitred end pieces. Fix the side and end pieces together using panel pins, then fix the bottom of the tray to the sides and ends with evenly spaced panel pins.
Step 7
With the tray now assembled, use a fine-tipped nail punch to hammer the nails in just below the surface. Using a putty knife, press the filler in firmly. Slightly over-fill each hole. Wait for it to dry then sand smooth. Also sand off any sharp edges around the tray. Paint in your chosen colour.
Materials
6mm MDF (bottom)
65x19mm clear pine (ends)
40x19mm clear pine (sides)
25mm panel pin nails
Wood glue
Ready mixed filler
Sandpaper 120g
Paint
Tools
Protective safety gear
Tape measure & pencil
Handsaw
Builder's square
Hand router & bit
Jigsaw
G Clamp
Hammer & fine tip nail punch
Putty knife
Paint brush