Good design is everything, says Ron Redel, who shares his favourite things with Viva.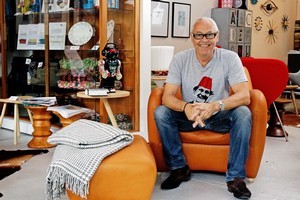 Ron Redel has established Bob&friends, a store within a store at Homage that brings together British design and an eclectic range of enjoyable "things" - like SCP furniture, vintage robots, J Fold wallets and bags, Bulova Accutron Spaceview watches and more. Redel, who has a background in film and ran his own commercials production company for 25 years, has amassed collections of glass, robots, watches, books, art and vintage Pirelli Calendars, of which he has about 35 (and describes wonderfully as "art meets page three"). His approach to good design is all-encompassing, explaining that, "it's just as important to have great sheets as it is to have a beautiful painting on the wall. All our senses deserve to be treated." Redel talks us through his eclectic list of favourite things.
10 FAVOURITE THINGS
1. George Crewdson's photography
He creates worlds that are both beautiful and disturbing.
2. Balzac chair and ottoman
Matthew Hilton's chair and ottoman celebrate their 20th anniversary this year - and have become without question a modern-day classic.
3. Mid-century glass
I have a small collection of air glass that I think is just beautiful and so clever. Vicki Lindstrom is one of the main artists, and I have a 1960s paperweight that is gorgeous.
4. My Porsche 993
This is the last of the air-cooled 911s and is just an absolute design classic. A lot of people hate Porsches but I've always loved the shape of the 911. Before this I had a beautiful 1975 911S Targa in mint green that was great to drive and an incredibly simple car.
5. Toy robots
I have a collection of about 50 now. They are all Japanese and date back to the 1950s. I bought my first pair at an auction at Christies in Kensington about six years ago, and became addicted. It's one of those crazy things with the internet, you can find yourself just getting completely immersed in these crazy passions and before you know it you're buying them every week. I bought one that got wrongly shipped to another collector, and when we finally spoke to arrange swapping our purchases, he admitted being a complete robot nut who had only recently starting collecting but was totally into it.
6. Taschen art books
These are just amazing. I love their scale - the Dennis Hopper is my favourite, though had I bought the original Helmut Newton Sumo or the Muhammad Ali edition, I think ether one of those would be included. The books are amazingly printed and are wonderful to look at.
7. American Tabloid by James Ellroy
The first part of James Ellroy's American Trilogy which covers the early 1960s, and the whole Kennedy assassination. It is the most explosive book and is the most remarkable insight into the crazy American world of mafia and politics. He writes at a breakneck speed and creates a frightening picture of the American underbelly.
8. Bulova Accutron Spaceview watch
I fell in love with these watches in New York in the late 1970s - they are the watch Swatch copied to produce the Jelly. They are just a completely original design. The watch was produced for about 10 years from the early 1960s through to 1974.
9. Steve McQueen movie poster
I have a fantastic movie poster of Steve McQueen in Bullitt - it is about two metres by a metre 50, so it's a big poster. I love Steve McQueen.
10. The potato peeler
I am going to throw in something completely crazy: the most wonderful piece of practical design, the potato peeler. I know this sounds mad but there is a very basic potato peeler which is the bent piece of stainless steel with the blade across the top, and it is the perfect peeler - it cost about $4 and comes from China, but it is the perfect tool for the job.
I love to cook and make a lot of jam and preserves, so I've got the Global knives and all the expensive bits, but this potato peeler is by far and away the best tool that I have (alongside a wooden lemon juicer that also costs only a few dollars).
There is a lovely story about this peeler: there was an English street trader working the streets of New York called Joe, and he made a very good living just selling the peeler from his pitch on the street.
At night he would get all dressed up and eat at the best restaurants New York had, all from this simple little bit of perfect design.
* Bob&friends at Homage, 1 Morgan St, Newmarket, Auckland.