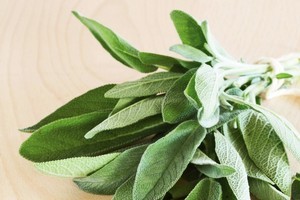 How to grow it:
Sage is a useful herb to have in the garden and it happens to look attractive, too.
Bees love the purple spike flowers and the leaves can be used for myriad purposes, from culinary herb to a gargle for sore throats, and even a hair rinse.
The plant will live several years and, as it starts to become stalky, it is simple to take a cutting and start a new plant.
Sage plants prefer sunny, free-draining soil.
A raised bed, with compost dug in for aeration is ideal, a little mulch is also a good idea as the plant becomes established.
Sage will also tolerate dry conditions, as it doesn't like wet feet.
A variant, purple sage, is also available.
Harvest mature leaves, tie a bundle with string and hang upside down to dry for use in the home.
In the kitchen:
Aromatic sage suits being used with fatty foods.
Add whole fresh leaves with garlic and sea salt to a pan and roast with root veges, or chop finely and add to a classic bread stuffing in Christmas turkey.