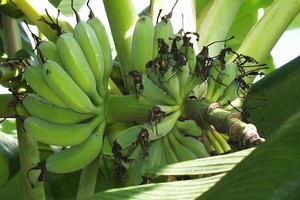 How to grow them:
Home-grown bananas are the best, and a revelation.
They taste quite different from floury supermarket ones, although it's great to see some supermarkets supplying Fairtrade bananas.
I grow Hamoa and a generic Lady Finger type.
These small bananas do best in Auckland and Northland's subtropical climate, have a smooth texture and don't go brown when cut.
Bananas like rich soil, shelter, moisture, mulch and plenty of compost.
Once a banana stem fruits, it should be cut back hard so other shoots can grow.
Let only the strongest stems grow and you'll get big bunches of fruit.
Cut your prized bunch as they ripen, before birds get to them.
Cut the trunks and foliage up after cutting back and mulch them around your banana clump to feed the plant.
In the kitchen:
Freeze surplus bananas, skin on, then peel and purée for a super-sweet low-fat dessert.
A little lemon zest will lighten the flavour.