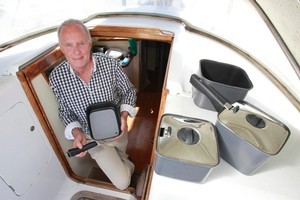 Graham Dalton was sailing alone somewhere in the Southern Ocean, in a cabin the size of a dog kennel, when he looked at his stove and thought: "Why are pots round?"
The brother of Team New Zealand boss Grant Dalton, Graham saw a gap in the market for space-saving square cookware that would let fellow sailors take advantage of the limited room in a boat's kitchen.
After more than two years of planning and designing, Dalton has registered global patents for a set of square pots and pans, sold under the brand SmartSpace.
The pots are designed to maximise the space available on a stove and slot inside each other for easy storage.
Within a week of the products hitting shelves last month, Dalton said stores around the country called him saying they had run out of stock.
Although pleased with the initial successes, Dalton has a broader ambition to get SmartSpace worldwide within the next five years.
He has already signed a distribution deal in Australia and is in contractual talks with a partner in the United States.
"This sort of thing is good for New Zealand because it's intellectual property designed in New Zealand ... and the money's returned to [the country]," he said.
Dalton funded the project himself and depending on the success of the cookware, he will look to release more products under the SmartSpace brand.