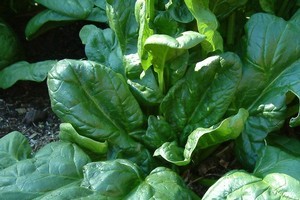 How to grow it:
Late spring is perfect to grow spinach.
Iron and folate-rich, this super vege enjoys warmth, moisture and good drainage and will grow lovely big leaves in these conditions.
Grown at the height of summer, spinach tends to bolt.
Incorporate home-made compost in your soil and cultivate until you have a crumbly loam.
Spinach has quite delicate roots, so avoid lumpy clay soil.
It is best planted in raised beds, or a medium planter or broad pot.
Spinach prefer alkaline soil, so incorporate a little dolomite before planting.
Apply occasional liquid feeds (fish-based is good).
In the kitchen:
I love the way the Japanese serve spinach.
Simmer for a couple of minutes until wilted, then dip in ice water to retain the colour.
Mix a little mirin and soy sauce with the leaves and sprinkle with roasted sesame seeds.
Spinach shouldn't be eaten every day as the leaves are high in oxalic acid.