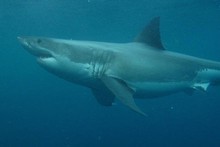 It is the stuff of nightmares for some, but scientists are getting up close and personal with great white sharks around New Zealand in an effort to protect them.
Scientists have tagged 23 great white sharks near Stewart Island in an effort to follow their movements and to try to stop them from being accidentally caught in nets and lines.
The project is now several years old and Niwa principal scientist Dr Malcolm Francis says colleagues have perfected their tagging skill.
A berley of tuna oil and minced tuna is used to attract the sharks to the boat and a long pole then injects a tag into the muscle below the dorsal fin.
"The tagger has to focus intensely on that part of the shark, and decide in a split second when to attempt the tagging.
"If he is slightly too early or too late, there is a danger that the tag will not end up in the right place. The team has become much more skilful at doing this after several years of tagging," said Dr Francis.
The sharks were tagged and photographed under water so they could be identified, allowing scientists to study their habitat and behaviour, and to find out when they inhabit different locations.
Many of those tagged are "local identities" which have been recorded in the same place in previous years, said Dr Francis.
Scientists from the National Institute of Water and Atmospheric Research (Niwa), Department of Conservation (DoC), and University of Auckland want to know the size of the population in New Zealand, and to reduce the chances of the sharks being accidentally caught.
Pop-up tags used will record depth, location and temperature over a year and transmit the data via satellite.
Acoustic tags, accurate to within a few hundred metres, are also used to show where sharks go by sending out a coded pinging sound unique to every shark. The tag batteries last two years.
Data loggers, many placed on moorings around northeastern Stewart Island and Ruapuke Island, record when each shark is present by detecting their "pings".
The data will be downloaded from the loggers every three to six months.
- APNZ