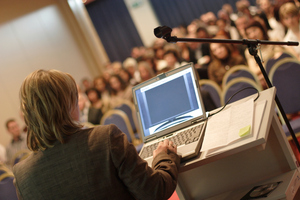 Oh helloooo there chook! Or should I say Morena! Kiss kiss. Nice to see you again. Yes I'm back. Last time I was writing in the Herald I was saying goodbye as I returned to university as a mature student but, well, mumble, mumble, it wasn't an unmitigated success. University made me depressed.
Varsity is quite a different kettle of kai moana these days, at least if you are studying the social sciences. It's like a cult.
There are a few sacred ideas you must subscribe to in order to do well in subjects like psychology. They include: The world is grim and getting grimmer. Everything European is bad. Anything to do with Maori culture is special. (Having a cup of tea and a korero counts as solid research.) Despite feminism, women have grim lives and no power to change them. Even so, both men and women have no "agency". (That is trendy academic lingo. Civilians might call it free will.) We are all victims and oppressed by "the system".
In brief, we are stuffed.
These tenets are rigidly held. The late critic Robert Hughes said the greater the artist, the greater the doubt: "Perfect confidence is granted to the less talented as a consolation prize."
Don't get me wrong, I really did try to fit in. I accepted I knew absolutely nothing and was prepared to be re-programmed and repent the error of my evil white middle-class ways. I read Foucault. I stopped wearing red lipstick.
But it was unrelentingly grim. We had one day-long tutorial in Psychology of Women where we talked about domestic violence (terrible), sex (terrible as well, apparently), mothering (surprisingly also terrible). Everyone was bending over backwards to be supportive of each other's victimhood in the face of all this terribleness. I was starting to sound like an extra sympathetic Sybil Fawlty. "Oh I know. Oh I know. "
Don't forget these are the academics who are supposed to be directing their super-noggins on to fixing social problems such as youth suicide, underclass despair and mental illness. Oh, help.
I was relieved when I discovered renegade neuroscientist Loretta Graziana Breuning who claimed that at university you have to sign up for "handcartism", the orthodoxy that society is going to hell in a handcart.
Handcartism forces young people to embrace a depressing outlook or be socially shunned. Being a rescuer feels good and being pessimistic is considered clever. Professor Breuning might have added "handoutism" - the idea that the world could be perfect if everyone just got more handouts.
"My college professors taught me to blame 'the system' for all human misery. I heard them praise the brilliance of those who linked each human problem to the flaws of 'our society'. And I heard them disdain anyone who questioned this view, saying, 'They don't get it'." Professor Breuning said blaming institutions is handy as it stops you from blaming real people. It also stops you looking inside yourself for answers.
Most people's lives are far better now than a few generations ago. Take a look at infant mortality stats, modern dentistry, libraries, human rights, Google, contraception, food preservatives, tampons, espresso.
Not that you will hear any of this in a Psych lecture. Unfortunately for my university career, I am an optimist.
Yes, some people lead appalling lives. I think we should dare to tell the truth about this. But also dare to see the good. So I don't have any extra letters after my name but I'm feeling happier again. I've put my red lippy back on. Kiss kiss.