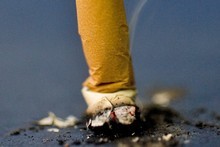 I loathe cigarette smoke. It smells foul, and permeates the clothes of the person hanging off the end of the cigarette and everyone within close proximity to that smoker.
Then those desperate addicts, who can't seem to kick their habit, stub their nasty fag ends out in pot plants, saucers, dinner plates, or flick them over balconies to burn holes in your new canvas deck chairs.
You see them huddled in street dockways sucking on their cancer sticks like pariahs from work and wonder how much of the boss' time they're wasting.
At dinner parties, they all get up and leave the table between courses and you suspect they're talking about the rest of us at the table, sniggering at our puritanical wholesomeness.
I used to be one of them and we were. At parties, the most exciting guests are outside smoking.
So why doesn't anti-smoking watchdog, Ash, give them a break? Didn't it win the war in 2003 when the Smokefree Environments Amendment Act was passed, effectively banning smoking in bars, restaurants and clubs? Hasn't what I've written above shown we've made these people into social lepers?
A bar in Auckland, the Britomart Country Club, has found a way to accommodate smokers without - so far - breaking the law.
You'd think, then, that those who don't wish to inhale second-hand smoke would keep away.
Ditto those who apply for jobs there, because there are plenty of smokers who work in the hospitality industry (and fail to wash their hands properly after their ciggie break, I might add, but that's another story).
The "bar", which can, by all accounts, be thrown together and carried away on the back of a truck to be reassembled elsewhere, consists of shipping containers and a huge awning which acts as a roof, with substantial gaps to let fresh air circulate.
It's the latest hot venue for Auckland's young things who enjoy shouting at each other to be heard, therefore not my scene. I predict it will be a smash hit come the Rugby World Cup if the nicotine police don't have it closed before then.
Because H. L. Mencken was right when he described puritanism as the haunting fear that someone, somewhere may be happy.
Ash director Ben Youdan wants the bar "thoroughly investigated" for possible breaches of the law.
There is a place for lobby groups such as Ash but once they achieve their goals, they overstep the line.
Now Ash has gone from a lobby group which alerted public to the dangerous situation people put themselves in when they abused cigarettes, to wanting to eradicate choice.
If smokers want a fag with their meal and booze, without having to stay at home or huddle in a public doorway, why shouldn't they be able to go to a bar that caters for them?
If people like me hate the smells they create, we just have to stay away or suck it up.
We can't go into the Britomart Country Club knowing it's a smoking area then snivel to the Auckland regional public health service because we've got a cough.
Of course there is a catch here - the rest of us are picking up the tab for the smokers' lifestyle choice.
People who don't have life insurance, but continue to smoke while ignoring the risks, are treated for cigarette-related illnesses with taxpayer-funded health care.
It costs the country millions of dollars.
To be fair, they do pay millions in taxes when they buy packets of smokes, but while we have state-funded universal healthcare, they should be forced to have health insurance if they smoke.
Likewise with the obese. You can argue morbidly obese people are just as guilty as smokers for not taking financial responsibility for their own health outcomes.
This country is leading by the gut when it comes to obesity-related diseases and we're not going to be able to pay for it. Education won't work. Shaming might.
Perhaps Ash could change its name to Blubber and prosecute all restaurants which allow patrons to drink cow's milk and fizzy drinks, and eat pies and fried foods.
By Deborah Coddington

Email

Deborah