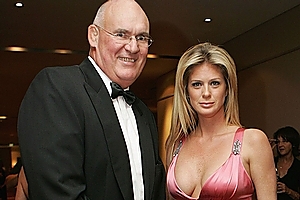 Since when did a girl getting comatose signal she was freely available for sex?
Yes, there are silly young things who go out on the town targeting All Blacks, rich guys, famous faces and fat sleaze bags just because they have credit cards with no spending limits, but that doesn't mean they're gagging to be sexually violated, as one letter to the editor last week seemed to intimate.
All this nonsense about women setting the standards takes me back 100 years, to the days when people believed the female gender gained nothing from sex except offspring.
"Shut your eyes, grit your teeth and think of England, love."
"Brace yourself, Mabel."
It was only the man who had any passions, and he couldn't control them. So it still seems to be the case.
If these slappers, drunken trollops or groupies go out scantily dressed, looking for a good time, then they only have themselves to blame if they rouse the sexual urges of men in their prime, even if they do have wives and children waiting at home.
The unfolding news over alleged behaviour by former All Black Robin Brooke has been sleazy, but the vicious reactions from various men and women in blaming the young girl has made me sick.
You can forget sexual equality in this country - it's never going to happen.
Here's a comparison. A rich guy jumps into his Ferrari and goes on the town dressed in his Ermenegildo Zegna suit, bulging wallet tucked in his pocket.
He's looking for a good time, so targets a bar where he'll meet finalists from New Zealand's Next Top Model.
They knock back stiff drinks like chartreuse (55 per cent alcohol) then retire to the house of one of the models, where they all get drunk and he passes out.
The models take this as permission to drive away in his $550,000 Ferrari.
They only return it, wrecked, when someone threatens to call the police.
There are no male equivalents to the words slapper, trollop, groupie, but it's his fault for wearing an expensive suit, driving a Ferrari, targeting models, having expensive tastes.
Women can't control themselves when tempted by riches and baubles. They're gold-diggers.
In an interview, Grahame Thorne admitted to having to think, "did I actually rape anyone?"
Can you imagine thinking, "did I actually steal money, or did we exchange goods voluntarily?"
The girl in the latest Robin Brooke complaint was just 18 years old. He was 30.
I'd really like to know what sort of man gets his pleasure from having sex with a comatose girl. If he's that desperate, why not just go to the nearest abattoir and take a carcass off the chain?
And to those who blame the women, answer me this: what if a group of 65- or 70-year-old women go out for a good time, get a little sloshed, and one of them ends up comatose? Is she asking to be shagged, too?
These women are our mothers, our sisters, our daughters and that is how the Robin Brookes, the Andy Hadens, the John Harts and the writers of letters to the editors should view human beings.
If you encounter anyone drunk, legless and comatose you should help them, ensure they are safe, not have sex with them.
When Close Up's Mark Sainsbury asked former All Black coach Hart if he was shocked when he first heard the allegations about Brooke, Hart said he was "disappointed".
Disappointed? Disappointed is how you feel when there are no crunchy bits in hokey pokey icecream. Gutted is how you feel when the ATM machine says insufficient funds.
Shocked is how Hart and the All Blacks management should have felt, and Brooke should have been stood down and the complainant urged to go to the police.
Sadly, it might not have done her much good. She was 18, had abused alcohol, and was up against the might of the All Blacks machine - witness last week's comments by Andy Haden: "If the cheque bounces, sometimes, they only realise they've been raped."
If Murray McCully must appoint a Rugby World Cup ambassador, why can't it be Michael Jones, the last of that bunch with values?