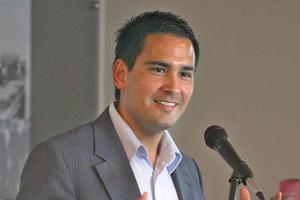 I shamelessly use this column to indulge my love for animals, so it's a given I support National MP Simon Bridges in his quest to get tough on animal cruelty.
Bridges is rounding up cross-party support for a private member's bill to increase the maximum penalty for wilful abuse of animals from three years jail to five.
Curiously, Bridges defends this move by quoting research that indicates cruelty to animals can be an "early warning sign of psychopathic violence in later life", citing drug-crazed murderer Antonie Dixon as an example. In my opinion, deliberate - even neglectful or careless cruelty to animals - is a stand-alone evil, regardless of where it may lead.
On the face of it, the plan from Bridges seems like an idea whose time has come. He has support already from organisations such as the SPCA, the recently established pro bono panel of lawyers who prosecute on behalf of SPCA, and the NZ Veterinarians Association.
No doubt many individuals will lend their support. Despite the horror of these crimes, which seem to increase in frequency, the longest sentence was just 12 months' jail, later reduced to 10. That was in June last year when Dunedin 19-year-old, Jeffrey Hurring, took almost an hour to kill a Jack Russell terrier - throttling it with a chain, pouring petrol down its throat then suffocating it with a pillowslip and finishing it off with a spade.
We frequently hear tales of dogs being dragged behind cars, boiling water poured over cats, kittens tied in sacks and chucked in rivers, pups tied up under houses to starve. Housing NZ staff wept when they found a starving dog abandoned by a tenant weeks earlier, which struggled to his feet and despite the appalling treatment still managed to wag his tail and lick the hand extended in kindness.
Why have we tolerated such gutless behaviour for so long?
But before we proceed gung ho with Bridges' new law, some cautionary notes must be sounded. His publicity repeatedly begins with the line, "the public attitude to animal cruelty has hardened and so should the penalties".
Let's be careful how we define cruelty. The most extreme members of the anti-vivisection brigade, those who hurl blood over anyone who wears fur coats, would define cruelty as a person who owns, runs or frequents a butcher shop, furrier, or, quite possibly, cobbler and leather shoe shop. They conveniently overlook the fact that animals eat animals.
Clearly Bridges does not intend to include these people.
One animalista's cruelty is another's common sense. It's one thing to call the police when farmers' calves are falling down in the mud, weak from hunger; but it's quite a different matter when a family of townies taking a Sunday drive are offended because Farmer John's cutting the throat of a dog-tucker ewe and they think he should be incarcerated for five years.
Don't snigger - it could well happen. Are the "herd homes" proposed for dairy farming in the Mackenzie Basin cruel to cows? I don't know enough about them to judge, but they do seem mighty unnatural both for that particular environment, and for New Zealand's traditional way of farming.
But in the eyes of many rural folk, carrying chihuahuas in handbags is cruel and humiliating to animals. And don't start me on clothes for canines, or bichon frises with bows in their hair.
Look to yourselves, city people. To us country bumpkins, big dogs cooped up in high-rise apartments look remarkably similar to sows in crates - very cruel. So don't, in your ignorance, use Bridges' bill to beat up on farmers.
Former Act MP Gerry Eckhoff got it right back in 2002 when he won the party's funniest press release headline competition. Incensed that farmers were criticised for their supposedly underweight dogs, and wishing to inform the public that fat dogs can't work hard, he pointed out that, "Skinny dogs are just misunderstood".