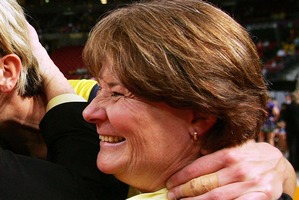 In unveiling Julie Fitzgerald as the next Magic coach yesterday, the Waikato Bay of Plenty chief executive Tim Hamilton came up with a thought-provoking line.
"We did a thorough search for the best netball coach available ... to have secured someone of Julie's calibre is quite an achievement and we're thrilled with the appointment," he said.
Fitzgerald is an Australian, and former coach of the NSW Swifts. Advance Australia Fair once again rings loud on the sidelines and in the changing rooms of New Zealand sport.
Former deadeye goal shoot Vicki Wilson is to be Wai Taumaunu's Silver Ferns assistant.
Now look about the New Zealand sports landscape.
Both national hockey teams are coached by Australians, Mark Hager and Colin Batch.
Three successive Breakers coaches - Frank Arsego, Andrej Lemanis and Dean Vickerman, respectively average, outstanding and about to be put to the test - came from over the Ditch.
Swimming New Zealand recently parted company with Aussie Mark Regan and now have a Spanish-English double as high performance and head coaches.
The Warriors were coached to an NRL grand final by Ivan Cleary, and now Matthew Elliott is overseeing an impressive five-game winning run. Cleary has just been added to the Kiwis World Cup staff as Stephen Kearney's assistant, a role filled by the taciturn legend Wayne Bennett five years ago as the Kiwis triumphed in Brisbane.
Former Australian test wicketkeeper Steve Rixon was a strong influence in the turnaround of the national cricket team's fortunes in the second half of the 1990s. John Buchanan is now New Zealand Cricket's director of cricket. Former state players Anthony Stuart and Jamie Siddons have been Wellington coaches.
And if you want to stretch the point, new Phoenix coach Scottish-born Ernie Merrick has been in Australia for longer than he lived just over the English border.
Two conflicting schools of thought get plenty of support on the Australianisation of New Zealand coaching ranks - and we haven't even touched on European influences.
One, as outlined yesterday, was a pithy "disgraceful" on the influx of Aussies. In a nutshell, the promotion of New Zealand coaching talent should be paramount.
The other perspective came from Hamilton yesterday. Chase the best, sign the best if you can afford it, and if they hail from the western island so be it.
Both takes on the issue have some merit. One sport, however, is nowhere near looking west, or anywhere else for that matter.
When might the All Blacks be coached by anyone other than a New Zealander? It is tempting to say never, but that would be foolish.
So long as the All Blacks are top of the world, and a decent succession line is in place, the New Zealand Rugby Union don't need to consider what would be a philosophical sea change.
And even if they're going through a wobbly period, who'll be the first person at the board table to suggest they look overseas?