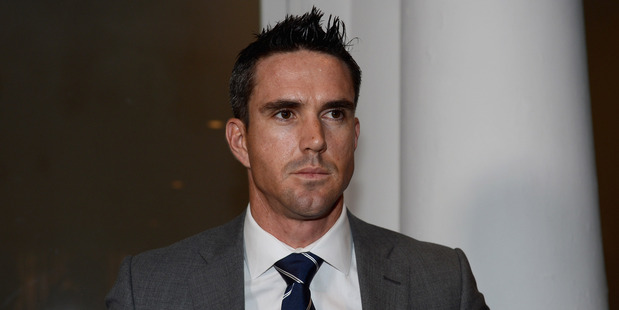 Kevin Pietersen's return from the cold is good news for England's team on the field; the more relevant question is how quickly he'll be returned to their bosom in the dressing room.
World cricket's strutting peacock was yesterday confirmed back in favour, and in England's touring party to visit India shortly after two months spent seriously out of favour as a result of a pile of indiscretions, including his provocative texting to South African players during their series against England in mid-year.
The likelihood is the South African-born batsman will be part of England's tour to New Zealand early next year. For sure, that's good news for the marketers.
It should not be forgotten that had it not been for Pietersen's 129 at Napier four years ago - over half the England total, and after they'd been four for three, courtesy of debutant Tim Southee - that series may have been a 2-1 win for the hosts, rather than a 2-1 loss.
There's no doubting the value he'll return to England's batting line-up. His last test innings was a thunderous 149 against South Africa, before the dressing room situation became intolerable and he was dumped for the third test as England lost the series and their No 1 test ranking.
Certainly the Board of Control for Cricket in India will be jumping for joy at the prospect of Pietersen bringing his box-office qualities to the subcontinent. The curlier issue is how he'll be received back in the dressing room after details of his finger-tapping indiscretions were revealed.
Pietersen was dropped for his refusal to explain, or deny, reports of the texts critical of England's captain Andrew Strauss. He eventually admitted to sending "provocative" messages to England's opponents. That was enough, on top of a disintegrating mood in the dressing room, for a red card and his central contract was stripped.
Stories of players ignoring him are well documented. He had become a man alone in the team set-up long before he was removed. Senior figures such as Stuart Broad and Graeme Swann are known to have a dim view of him.
So how fast will those players, and others, put the past where it belongs, slap KP on the back and allow him to feel the locker room love?
Players can be fickle. The younger ones may not be perturbed by his return. The older sweats, who felt he'd let the side down in the latter stages of Strauss' reign, will have a different view.
What Pietersen can do to speed reintegration is score bundles of runs. Players are funny like that. If he's helping them win games he'll be, at the least, tolerated, if not given the cuddly treatment.
One little acid test will come when Pietersen does score a century. Check out the reaction from the dressing room balcony. It'll be perused more closely than who's standing beside whom on the Buckingham Palace balcony in the royal pecking order.
When the England Cricket Board chairman Giles Clarke opened the way for his return a fortnight ago he used words like "forgiveness" and, with outrageous pomposity, being reintegrated into "our society".
There've been meetings with players and team boss Andy Flower. Cooing noises emerged from those.
But hard man Flower is certain to have demanded a fresh level of loyalty to the team.
It's not the first quality you'd associate with the player.
Pietersen is among the game's stellar batsmen, a genuine matchwinner when he's on song, averaging 49.48 in 88 tests but also capable of daft moments which go with his extravagant style.
Watchable? Too right. Infuriating and hard to fathom at times? Absolutely. And, whether you like the cut of his jib or not, good for the game that he's back? Yes.