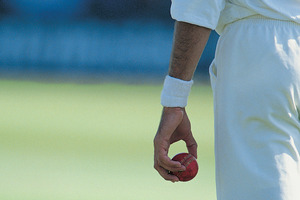 Might New Zealand Cricket's partial move from Christchurch to Auckland be the thin edge of a full-blooded cover drive?
No chance, said chief executive David White last night after a decision to move NZC's commercial and marketing operations north.
The idea of shifting en masse to Auckland has been mooted now and again, even before the earthquake and the forced move out of the central city to the high-performance base at Lincoln, about 25 minutes southeast. However, White said a full switch won't be happening.
"NZC and the board are absolutely committed to Lincoln being the high- performance centre and heart of New Zealand Cricket," White said.
He cited the facilities, such as Bert Sutcliffe Oval, as key to that thinking, as well as Christchurch boasting the most consistently good weather which is a factor in early-season cricket for the various groups training there.
By all accounts having the full body working in an unsuitable work environment was always regarded as a short-term fix. Hence the relocation. What might be termed the cricket departments of the operation are staying at Lincoln. Hard decisions lie ahead for staff, with the options of relocating north - not every Canterbury-based person's idea of bliss - or moving on.
NZC have 57 staff, with about one-third facing a potentially difficult choice. The plan is to work through the consultative process over the next month with the final decision due by July. White stressed it is only a proposal at this stage but there are solidly pragmatic reasons for splitting the setup.
The World Cup, which New Zealand are co-hosting with Australia in 2015, will require a strong Auckland presence, purely in business and sponsorship terms. Although there will be a dedicated World Cup organising committee, having NZC's important commercial players settled on the ground well beforehand makes commercial sense.
White outlined the plan to NZC staff yesterday.
"There was some disappointment and concern and we understand that. This is always very challenging."
NZC has been based in Christchurch for what seems forever. For years it was run by an executive of men who lived in the city. Now it has a more national look to the board. Chairman Chris Moller, for example, is based in Wellington; White's primary ties have been further north.
Change is afoot on the international stage too, with former South African wicketkeeper Dave Richardson to take over as chief executive of the International Cricket Council, replacing Haroon Lorgat.
Richardson, who played 42 tests through the 1990s, curiously will be the first former test player to assume the role.
Richardson's experience within the ICC - he has been its general manager of cricket for the past 10 years and was in Dunedin for South Africa's test in early March - was rated a key to his appointment, which will be recommended to the annual conference in June.