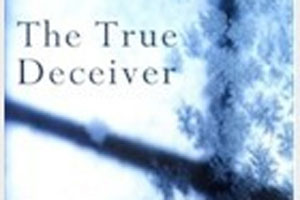 In the last three decades of her life, the creator of the Moomins wrote exclusively for adults. This small, perfect story was published nearly 30 years ago, but has just appeared in English. Thank goodness we finally have it.
A claustrophobic, conservative small northern village, buried in snow and censure, focuses its disapproval on Katri and her younger brother, Mats. They behave differently: live aloof, eschew gossip, don't even name their dog ("it's unnatural"). They look different, too: one tall and dark; the other with hair that is "not local".
Katri's ambition also pushes perimeters. She intends to take over a house already owned and inhabited by another outsider, remote and unworldly Anna is an artist who paints loving and benign children's book illustrations of the forest floor.
Katri invades, burgles, manipulates. Yet her aim is paradoxically selfless: she wants a haven for Mats, whom she has protected since he was a small boy.
Gradually, intricately, the characters of the two women are anatomised. Anna, in her serene house filled with "a cautious blue colour", is not so much good as lacking malice, self-indulgent in her harmlessness. Katri by contrast brims and broods with life. She's honest, indifferent to others' opinions, vulnerable to anguish and regret.
Too complex and subtle to be a genre thriller, the plot is twangy with conflict and incipient violence. The undecorated, unsparing writing, gliding in and out of different voices, takes you straight to the cores of characters. Nuances of motive and relationships are wonderfully handled.
In what seems a splendid translation by Thomas Teal, phrase after sentence resonates with imagery and implications - "the short questions and comments people devote to things that really matter", "they owned a silence together that was peaceful and straightforward".
Through northern months when the snow never stops, events acquire symbolic, almost mythic overtones. Katri is Winter, cool and lean and pitiless; Anna is bright, fragile, equally relentless Spring. By the end, both have been challenged and changed. Meanwhile, the ice floes crack; the nights shorten and brighten; the woods start to colour. That sounds formulaic and trite. But Jansson's writing and narrative are never anything other than consummate. The True Deceiver is simply a true masterwork.
-David Hill is a Taranaki writer.
*The True Deceiver, by Tove Jansson, Sort Of Books $28.99.