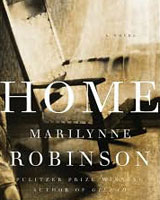 Robinson's third novel in 30 years returns to the place and people of her Pulitzer Prize-winning Gilead. It is 1956 in Iowa, a time of quiet and innocence, but also a time early in America's civil rights movement, when black people don't drive on strange roads at night, and decent white folk debate the merits of batoning coloured protesters in Kentucky.
The Rev Boughton, friend of Gilead's narrator John Ames, is now frail and almost bedridden. Back to the old preacher's home, which has always "embodied for him the general blessedness of his life", come two of his middle-aged children: his daughter, Glory, who "takes everything to heart", and his errant son, Jack, who seems to have no heart at all.
Both are refugees - Glory from a long, ultimately sterile relationship (she's thrown her 452 love letters down a stormwater drain); Jack from prison, drink, a life of crisis and crime.
The author is a practising Congreg-ationalist, and through her grave, moral book, brother and sister grow together again, while their father struggles to reconcile his love with what he sees as God's justice. It's a world where a stern Christian ethic reigns; where truth, loyalty and generosity are spoken of in capital letters; people read the Bible, debate the humanity of its parables and are strengthened or diminished by its teachings.
There are no easy answers and no easy endings.
The best of intentions sometimes lead to the worst of actions. Those who accept imperfections also accept one another; those who honour moral absolutes are capable of absolute rejection. Robinson's writing is meticulously honest, insistently unassuming, yet iridescent with imagery and imagination.
An oak tree seen in God's time becomes something that leaps from the ground, spreading its branches in joy. A bow in a child's hair encapsulates all the evanescence of youthful joy.
A faded, jaded man washing at a kitchen sink; a ride in a glowing old De Soto; a woman looking across the bonnet of a parked car - all turn into metaphors of the human condition. The plot advances quietly, inexorably, anatomising lives and losses, vulnerability and denial. There are delicately intricate tracings of failure and forgiveness, jealousy and judgment.
There are also startling, mordant glints of humour: Jack assessing the collection plate at church; Glory tabulating the meanness of her former lover. It's a novel of great integrity and moral probity, totally undistracted by fads and fashions, yet never taking itself too seriously. When you read it, the world's clamour goes quiet or goes away.
Home
By Marilynne Robinson (Virago $49.99)
* David Hill is a New Plymouth writer.
By David Hill