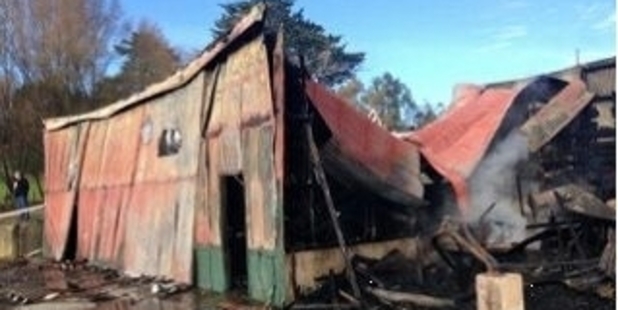 Tararua police are appealing for assistance from the public after two arsons in Pahiatua over the weekend, including an attempt to burn down the police station.
"We need help from the pubic to identify and locate the offenders," Detective Sergeant Shane Brown of the Tararua CIB said.
"At about 12.07am on Sunday, June 8, police and the Pahiatua Volunteer Fire Brigade were called to a fire at the Tararua District Council's Pahiatua Recycling Centre building on Queen St," he said.
"The fire took hold fast and the building became engulfed in flames. We are interested in any suspicious activity in the area."
Mr Brown said a vehicle was seen outside the centre at about 11.30pm on June 7.
"Officers are continuing to make enquiries and we want to speak to the driver and passengers of that vehicle," he said.
The second arson attack was at the Pahiatua Police Station which caused some surface damage to the garage door.
"It was discovered by two constables when they returned to the station after attending the first arson at the recycling centre," Mr Brown said. "The fire was beginning to make its way up the door jamb and was not far from taking off before the officers put the fire out.
"Scene examinations at both fires show they were deliberately lit and an accelerant was used. I believe these arsons are related and we have increased our patrol activity in the community.
"Officers are currently reviewing CCTV security camera footage in the hope those responsible may have been caught on the footage.
"We want to speak to anyone that may have any information about either of these arsons and I encourage them to contact police."
The penalty for anyone identified as having deliberately lit a fire in any property is a maximum of 14 years imprisonment.
"The community can help us by being vigilant and keeping an eye out for any suspicious activity in the area. If you see something that looks a bit dodgy don't discount it, call police immediately" Mr Brown said.
Anyone with information is asked to contact Detective Sergeant Brown on (06) 213 9528. Alternatively, information can be provided anonymously via Crimestoppers on 0800 555 111.
For more articles from this region, go to Hawkes Bay Today