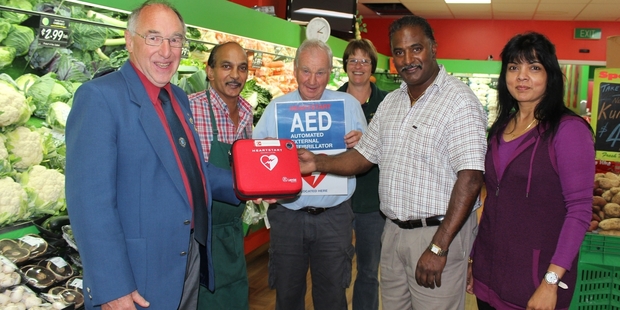 After a customer collapsed and died on their premises, the staff and owners of Dannevirke's Shires Fruit and Vege Market realised how vital a life-saving portable defibrillator could be.
And for volunteer firefighter Neville Jacobsen, having portable defibrillators positioned around town is about saving lives.
Last week Brian Wilson, president of Dannevirke Lions, presented the community with a defibrillator pack which is now in place at Shires.
"I'm rapt the Lions have come to the party," Mr Jacobsen said.
"I'd also like to have a defibrillator in place at the northern end of town and that's something I'll be working on now."
Staff at Shires have been through a training session with Mr Jacobsen and Suresh Patel, co-owner of the business, is also keen to have others around the CBD trained.
"We'll organise a session down at the fire station with Neville because I think this is a vital piece of equipment," he said.
The defibrillator cost the Dannevirke Lions $3500 and is worth every cent, Mr Wilson said. "Years ago we purchased one for one of our fire engines and that cost $6000, so they're becoming more reasonable," he said.
Mr Jacobsen said a portable defibrillator in place at the Services and Citizens Club was used six years ago to revive a local man.
"It was December 2006 and just seven days after the defibrillator had been installed at the club when patron Val Cheer collapsed," Mr Jacobsen said.
"I grabbed the defib from behind the bar and he's still alive today."
A framed certificate recognising Mr Jacobsen's courage, confidence and dedication on that day reminds the lifesaver of the importance of portable defibrillator packs.
Peter Patel, co-owner of Shires said he hoped staff never had to use their new machine.
"It's good to know what to do though," he said.
For more articles from this region, go to Hawkes Bay Today