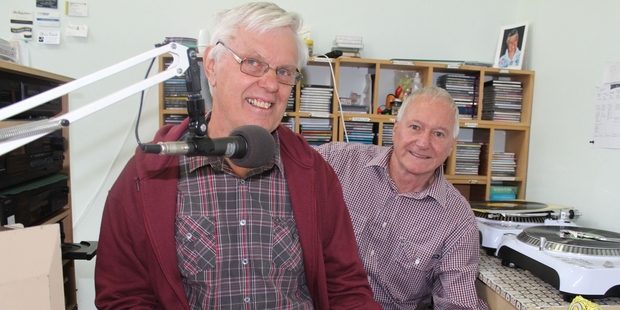 You can expect a cracking good time listening to Radio Dannevirke this Saturday night, two veteran music men promise.
Murray Cushing and Jim Ryan are keen to follow up their very successful Christmas radio bash with another to celebrate Easter.
"We're just going to follow on from where we left off at Christmas, but we'll have the Easter Bunny in the studio for an hour, so it's going to be a bit crazy," Mr Ryan said.
The Barrelhouse Easter bash will follow the same format as the duo's lively Christmas show and both men are looking forward to fun and shenanigans.
"There will be a lot of fun and games. It'll be fantastic," Mr Cushing said. "I'm really looking forward to the show. We'll have the Easter bunny in the studio between 7 and 8pm and there are prizes galore to give away, thanks to the generosity of Dannevirke business people."
The two music men are urging listeners to ring into the station this week to get their requests in early.
"I can find anything people request," Mr Ryan said. But we need a bit of time to get our play list organised."
Last week, to get in the mood, the pair hosted Peter Cottontail aka, Tommy the mini lop-eared rabbit, owned by Bowen Brook.
"On Saturday our Easter Bunny will be rather large, but not as cute as this little fellow," a delighted Mr Cushing said. "Having Trina [Brook] bringing in the rabbit is just one of the examples of people going out of their way to support our show and their local radio station."
Mr Ryan has been on Dannevirke Radio for two years, while Mr Cushing has been spinning the tunes for four years.
"We're looking to remind people of the good old days, those innocent days of the 1950s and 60s, with our Easter bash," Mr Ryan said.
The Barrelhouse Easter bash will air on Radio Dannevirke 104.2FM this Saturday, from 7pm to 11pm and you can call the station on 06 374-6601 to make a request, or drop it into Jim Ryan at Leader and Watt on High St.
For more articles from this region, go to Hawkes Bay Today