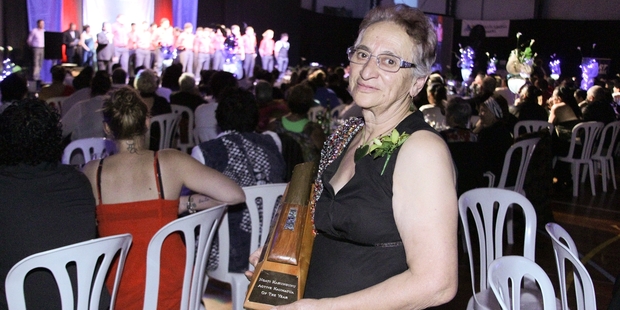 Age is no barrier for 74-year-old Te Aroha Edwards of Dannevirke who regularly swims 80 lengths and still holds down a job.
Known to most as Aunty Dimples, she won the Te Taiwhenua o Heretaunga Active Kaumatua of the Year award at the Ngati Kahungunu Sports Awards in Hastings on Friday night.
But the award was something she didn't feel she should have been nominated for.
"When I was told they were putting my name forward, I said I didn't feel I was old enough to be a kaumatua. I'm still working at the Dannevirke Hospital and don't feel my age. But I could do shortly," she said.
In the AMP Wai Splash pool at 6am every Tuesday and Thursday, Aunty Dimples swims to help combat arthritis.
"I'm allergic to most of the anti-inflammatory medication, so exercise helps," she said. Aunty Dimples also took part in the pool's swim New Zealand promotion, swimming 80 lengths every day for eight and a half months.
"Our team was the early birds and we were 54, 60, 68, 74 and 78 years of age," she said.
"I hope I inspire our young people. A lot of them call me the legend."
At the awards dinner, Aunty Dimples urged other kaumatua to get out and be active.
"I told them you're never too old," she said. "You only do what your body allows, that's all. This morning I didn't feel like swimming 80 lengths so I just did 40, that's all I felt like doing."
Stopping smoking two years ago has also helped her feel more energised.
"I'd never tell anyone else to stop, but we know it's bad for us. I feel so much better since I've stopped.
"I've found lollies instead and they're probably not good for me either."
With five of her whanau in Australia, Aunty Dimples is now tackling another challenge - texting.
"I haven't quite got control of my new phone yet," she said.
For more articles from this region, go to Hawkes Bay Today