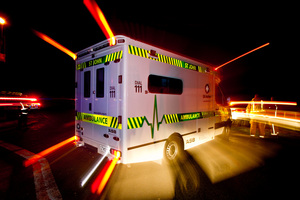 A Dannevirke woman who fell from her roof while cleaning the gutter has been discharged from Palmerston Hospital.
Emergency services were called to the woman's home at midday Saturday after the woman, in her 30s, suffered serious injuries in the fall.
St John ambulance staff attended the scene and transported the victim to the Dannevirke aerodrome where the rescue helicopter landed to take her to Palmerston North Hospital, pilot Chris Moody said.
The woman was in a serious, but stable condition when she arrived at the hospital.
Saturday's callout to Dannevirke followed an early evening call on Friday after a farmer in his 60s was injured while using a log splitter.
For more articles from this region, go to Hawkes Bay Today