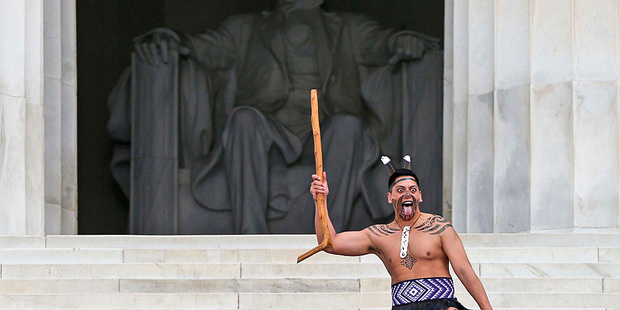 A performance by a Destiny Church haka group at a "coveted" time in the ceremony marking the 50th anniversary of the March on Washington has been called into question by US media.
The 12-strong group from the South Auckland church headed by Brian Tamaki gave a five-minute performance on the steps of the Lincoln Memorial, where Martin Luther King delivered his 'I Have A Dream' speech, this morning.
Their performance came at the request of King's daughter Bernice King.
A report from the Wall Street Journal pointed out the clash between Destiny's opposition to gay marriage and the liberal views of other speakers.
The haka group was sandwiched between speeches from gay-rights activist Alan van Capelle and Gay, Lesbian & Straight Education Network executive director Eliza Byard.
They took the stage just hours before US President Barack Obama delivered a stirring call for equality from the same spot.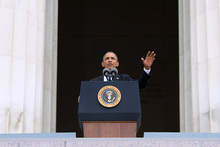 Destiny Church spokesman Richard Lewis told the Journal the church still opposed gay marriage on principle.
"But we believe people are free to make what lifestyle choices they please."
He said the ceremony was "by far" the biggest stage the group had performed on.
Byard told the Journal she was fine with speaking a few spots after the group's performance.
"Overall I'm glad that they were there to hear loud and clear how many speakers on that stage embraced the LGBT community as part of this common struggle.
"No one could walk away from today's event without seeing the way the LGBT struggle is embraced as part of this overall civil rights struggle."
Earlier, Bishop Tamaki told the Herald the group's invitation to the event came after Bernice King was "mesmerised" by a haka performed at Destiny's annual conference in 2005.
Performing at the Lincoln Memorial was a profound privilege, he said.
"I've said to the boys 'You've got to produce goosebumps on goosebumps...when you do your haka, we have to leave a mark, an impression because it's the world stage.
"Many Americans don't even know New Zealand exists let alone there is such a thing called Maori. We're very aware of how big this opportunity is."
About 5000 protesters linked to Destiny Church staged an 'Enough is Enough' march opposing civil union legislation in 2004.
- nzherald.co.nz