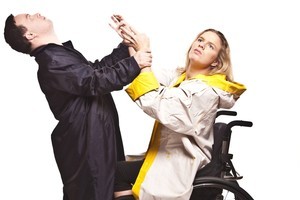 In their 2010 Triple Bill season of sophisticated, technically and emotionally challenging integrated dance works, the eight Touch Compass dancers are artistically assured, responding sensitively to the interpretive demands of their material, showing a high level of polish and proficiency, and a new level of maturity as an ensemble.
It has been two years since their last show, Harmonious Oddity, and in the period between, the company have focussed on professional development, with a series of rolling intensive workshops and the commissioning of two new works for this season from internationally established Kiwi choreographers, Jeremy Nelson and Carol Brown.
And it has more than paid off. The two new works in particular have provided an increased equality of achievement within the company, bringing disabled dancers to the forefront in new ways.
Opening the two hour show, Suzanne Cowan's delightful duet Grotteschi (2008) has lost its spiderweb lighting and gained a more combative feel.
This carnivalesque encounter between Ava the Spiderwoman (Cowan herself) and Argyle the Magnificent Mantis Mantis (Adrian Smith) is drawn from the freak show tradition, but also references nature television and traditional fables.
It presents a tale of strange attraction, an inter-species encounter through full body partnering, seductive passionate tangos, and a sudden death. The action segues backwards and forwards between Ava's tuffet lair and Argyles open floor, cued by alternating passages in the music by Charlotte Rose.
Jeremy Nelson's SIX is a richly satisfying, finely nuanced dance in which the movement potentialities, centres of gravity, inherent contrasts of flow and dynamic variation provided by dancers in and out of wheelchairs are at the heart of the choreography.
In the course of the dance, everyone gets to shine, with standout solos and delicious duets, lovely contrasts of solo and cluster, curves and spins, upward spikes and cross-floor diagonal schusses. The finer details of dynamic interactions draw on each dancer's inner strengths, and Dan King features as the man at the centre of the action.
The movement gains a heightened presence from David Watson's intriguing musique concrete soundscore, made in the studio alongside the dance. Both dance and sound have similar structures, though not always in parallel.
Sprinkles and bursts, fragments and blocks, slowly building layers, subliminal peeps, a fugitive melody - these provide a mood and sense of dramatic tension, and an at times subversive subtext. Its a dance that leaves you wanting more.
Carol Brown's SLIP - I'm not falling I'm just hanging on for as long as I can hold you, has some lovely passages and moments of pure beauty, though it is very much a work of disquiet and instabllity which pushes the dancers well beyond their comfort zones. The dancers restlessly change clothing throughout the dance, symbolically reinforcing the sense of disruption and discontinuity provided by nine discrete sections of choreography with music composed by Russell Scoones.
Most memorable perhaps are contrasting sections. A gauche attempt at krumping displays inner thoughts on their bodies - doubts, fears, self-judgements about not being good enough - and having survived the moment, a sudden joy as the audience warmly applauds their self-revelation.
A stellar encounter between Julia Milsom and Daniel King has her taking the lead, insinuating herself into his personal space, providing a calm haven from which their dancing takes off into a series of lifts and swings which circle him around her axis.
And the final image, Alisha McLennan in harness, drawn aloft by the collective weight of the others, spinning and circling through her own sheer momentum, before coming to rest again in deep relaxation.
-NZ Herald