NRL boss David Smith laudable for hard line on erring players but sports' 'education' excuse helps no one.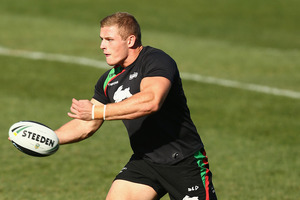 It's become almost as tiresome as the acts themselves.
A footy star winds up in trouble with the law and we're immediately reminded of the need for athletes to be supported by special educational programmes.
We've heard it ad nauseam lately, because despite all the fancy player welfare and education programmes on offer across the various codes, there is a seemingly endless parade of sports "heroes" behaving badly.
The NRL's integrity unit is currently inundated with cases after a week of shame for the sport.
A night on the booze led to George Burgess' unprovoked attack on a family sedan; James Tamou is up on drink driving charges after he was found to be nearly four times the legal limit; while Blake Ferguson is facing charges of indecent assault after a seedy incident in a Cronulla nightclub.
Fed up with the increasing incidences of player indiscretions, NRL boss David Smith moved swiftly to punish these players, who have copped fines and suspensions, or in Ferguson's case, been de-registered from his club indefinitely.
Smith can be commended for taking such a hardline stance, sending out the message that this type of behaviour will not be tolerated in the game.
But these players are just as quickly let off the the hook for their behaviour by players' association stooges who are trotted out to tell us how terribly difficult it is for athletes to be decent human beings and that sports need to offer effective educational programmes.
Do players really need to be taught that putting a street sign through a car window is a bad idea, or that sexually violating and beating women is wrong?
It may be that educational programmes are an important step to getting these individuals who have erred rehabilitated, but for sports to claim improved player education is needed every time someone messes up only serves to partially excuse their behaviour and take responsibility away from the individual.
Serena's 'stupid' claim abhorrent
One athlete that is desperately in need of education is Serena Williams.
Fresh off her French Open victory, Williams is now garnering headlines for all the wrong reasons after an interview with Rolling Stone magazine in which she offered her frankly abhorrent "she was asking for it" take on the Steubenville rape case.
For those unfamiliar with the case, a severely intoxicated young girl was repeatedly violated and raped by two high school football stars in a small Ohio town, where football players are demi-gods.
The horrific case captured headlines around the world, with details of the repeated assault documented and coming to light on social media by other students, and prompted debate over whether jock culture is a catalyst for sexual violence.
Williams, a role model for young women around the world, claims however the 16-year-old victim should have never put herself in that position and she was "lucky" it wasn't worse.
"I'm not blaming the girl, but if you're a 16-year-old and you're drunk like that, your parents should teach you - don't take drinks from other people. She's 16, why was she that drunk where she doesn't remember? It could have been much worse. She's lucky. Obviously I don't know, maybe she wasn't a virgin, but she shouldn't have put herself in that position, unless they slipped her something, then that's different."
Williams claims the rapists "did something stupid", but they didn't deserve the sentences handed down to them (despite popular opinion that the sentences of between one and two years were far too lenient).
Stupid? Turning up to a tennis match with your top inside out would be stupid. Rape is a monstrous act and can never be excused.
As an athlete, the 16-time Grand Slam winner has advanced the cause of women.
But as a social commentator she's just set women's rights back about a century.