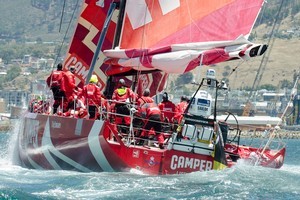 Team New Zealand have relinquished their lead in leg two of the Volvo Ocean Race after a testing day for the navigators on the waters off South Africa.
After racing in tight quarters for much of the first few days, the teams each revealed their hands yesterday as the fleet split.
Emirates Team New Zealand's entry Camper and Puma opted to head south, while the remaining teams took a more easterly route.
That led to Abu Dhabi Ocean Racing and Groupama overtaking the leading boats after being propelled by a cold front. Late last night Abu Dhabi led Groupama by just over five nautical miles, while Team New Zealand were a further eight miles back.
Earlier on in the day almost all of the Volvo fleet converged on a small bit of ocean for a morning tussle.
The fleet compressed to within one nautical mile of one another as Puma, Groupama and Sanya put the pressure on Team New Zealand, the overnight leader.
In the distance Abu Dhabi could be seen lurking with intent on the horizon.
Team NZ held off their challengers for a short period, but when the Kiwi team made the decision to head south in search of more wind, the positions soon changed.
But with the wind, current, even the weather models constantly changing, there is likely to be further movement as the teams encounter a tricky patch of ocean known as the Agulhas Current - the Indian Ocean's version of the Gulf Stream.
One of the largest and strongest currents in the world, it follows the African coast from Maputo latitude, down the east coast of Africa to Cape Agulhas at the southernmost tip.
Here the current leaves the coast and as it flows into the southeast Atlantic Ocean, it turns back on itself due to interactions with the strong Antarctic Current.