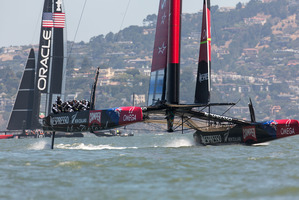 And now for the big show.
As soon as the hangovers wear off this morning following their Louis Vuitton Cup victory celebrations, Team New Zealand will begin their final charge ahead of their America's Cup showdown with Oracle.
By all accounts the celebrations were to be a low-key affair. For the Kiwi team, yesterday's win was just another step towards their ultimate goal - wresting the Auld Mug off Russell Coutts' mob.
It was obvious from the mood on the boat as they crossed the finish line three minutes ahead of the struggling Luna Rossa team to take out the final 7-1, that the team are conscious they still have a massive job ahead of them. There were no fist-pumps or high fives, just a few slaps on the back for a job well done.
They managed to garner a bit more enthusiasm during the traditional champagne moment on board and later on the main stage, but skipper Dean Barker was quick to remind everyone "we're definitely here to go one better".
There was time for some reflection on what they have achieved thus far, with Barker paying tribute to the men who kept the team afloat while the America's Cup was stalled by a bitter legal dispute between Oracle Racing and Alinghi.
The sailing team will be given the next three days off to recharge while the boat is in the shed undergoing a few final tweaks, but a ban has been put on any long-distance travel at this point, with the team unable to go any further afield than a two-hour drive away. "So the boys aren't allowed to go to Vegas," joked Team NZ tactician Ray Davies.
There were plenty of one-liners flowing at the Louis Vuitton Cup closing press conference as well.
Wanting to keep their cards close to their chest as they approach a September showdown with Oracle, team boss Grant Dalton deflected any serious questions with a quick quip, one of them at the expense of TVNZ sailing correspondent Martin Tasker.
As Tasker was handed the microphone to ask a question, Dalton leapt in: "Remember the mic's on now Martin," referring to last week's live-streaming gaffe.
But Dalton's tone turned more serious when asked his thoughts on how Oracle were shaping up for the Cup match. Yachties are a superstitious bunch, Dalton especially so. The Team NZ boss, who fired plenty of shots across the bow of Oracle in the lead-up to the event, was reluctant to talk up his team's chances of winning the Cup for fear he may jinx his team.
Perhaps the Team NZ boss knows in that instance, the talking needs to be done on the water.