New Zealanders say the 20-goal loss to their arch-rivals across the Tasman has been a huge wake-up call.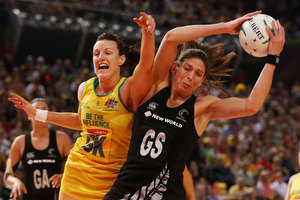 The Ferns at least know they can cope without their inspirational captain. Chalk up plan A as a success, plan B as a disaster.
If the Constellation Cup revealed the Silver Ferns' strengths and ability to perform under pressure, the Quad Series has so far exposed their limitations.
New Zealand's embarrassing loss to Australia on Sunday confirmed that although the team have made big strides this year, depth remains not so much a stumbling block for them but a huge rockface to be scaled.
Once you get beyond their starting seven, the Ferns struggle to remain competitive with the Diamonds.
It is not a new dilemma.
Waimarama Taumaunu faces the same conundrum every Silver Ferns coach has experienced - how to build depth in her side while meeting the expectations of a demanding sporting public who do not tolerate losses of any kind to Australia.
Her attempts at striking that rather delicate balance have so far fallen flat.
With the Constellation Cup safely locked away for the year, Taumaunu would have felt a bit more comfortable trying a few new things against Australia at the weekend. But she was far from at ease watching the result unfold from the sideline, nor did it look any better the four times she has viewed the footage since then.
The Silver Ferns coach has been clear her major goal this season is to develop solutions out on court against Australia that aren't so reliant on the "big three" - Irene van Dyk, Laura Langman and Casey Williams.
Going into the pinnacle events in 2014 and 2015, she wants a group of 12 players she can have confidence in on court against Australia.
The Ferns at least know they can cope without their inspirational captain after Williams missed the Constellation Cup series through injury.
Breaking the Ferns' heavy dependence on van Dyk and Langman is proving to be much tougher.
Cathrine Latu has long been seen as van Dyk's heir apparent, only the succession plan has been stretched out a little longer than anyone could have imagined with the 40-year-old supershooter determined to keep playing through to the 2014 Commonwealth Games.
Nevertheless the Ferns need two strong options at goal shoot and midcourters confident in feeding the ball in to both. But right now, New Zealand just don't have the personnel in the midcourt to achieve Taumaunu's goals.
Reinforcements should arrive next season, with Liana Leota and Joline Henry expected back after a brief maternity break, while Courtney Tairi and Grace Rasmussen are on the comeback trail from injury.
Until then, Taumaunu might be better shelving her midcourt experiments.